I'm a Fan
You can assume I'm a fan from my reviews of Haunt's previous efforts, Windows of Your Heart and Beautiful Distraction. You wouldn't be wrong. Haunt proudly flies the New Wave of Traditional Heavy Metal (NOTHM) flag with their annual album release.
This time, the multi-instrumentalist and singer Trevor William Church turned over the tracks to Darren Trentacoste to mix and master. Did the outside production make a difference? Although I never complained about the sound on previous albums, the production work of Trentacoste is absolutely worth it. Haunt reaches a new level with Golden Arm.
Haunt's entrenched in the NWOTHM sound, with Trevor settling into his unique guitar style on Golden Arm. The solos crush. Check out the guitar work on the live video for "Chimera." Good luck walking away without the infectious melody in your head.
Both Golden Arm videos, "Chimera" and "Fight the Good Fight" glimpse what a great live band Haunt is. On the road, Andy Lei (guitar), Sammy Harman (bass), and Andy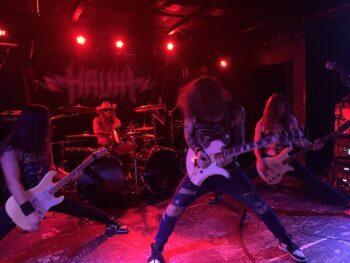 Saldate (drums) join Church. Haunt trekked across the US in the spring on a bill with Night Demon and the classic NWOBHM band, Satan. If you had the pleasure of seeing them, you know. If you missed Haunt, check out the Frozen in Time festival on June 16 in Fresno, CA, where you can also catch Traveler, Icarus Witch, Savage Master and more.
Truly Classic Metal
Haunt leans into classic metal traditions on Golden Arm. Several songs like "Hit and Run," "Piece by Piece," and "Golden Arm" feature non-music intros, one of my favorite metal tropes. How much more awesome are "Number of the Beast" and "Shout at the Devil" thanks to their intros? Each track benefits, but also kicks ass on its own.
High energy permeates Golden Arm. Between the updated production and Trevor hitting a groove, it's my favorite Haunt album since Mind Freeze. It's packed with melodic classic metal, full of hooks, metal riffs, and screaming solos. Haunt's releasing a compilation Chariot Vol​.​1″Best Of" in October.  "Hit and Run," "Chimera," "Fight the Good Fight," and "Golden Arm" will make excellent starting places for Vol II.
BUY: BUY
Also, find more of my CGCM reviews here: Dave Wilks