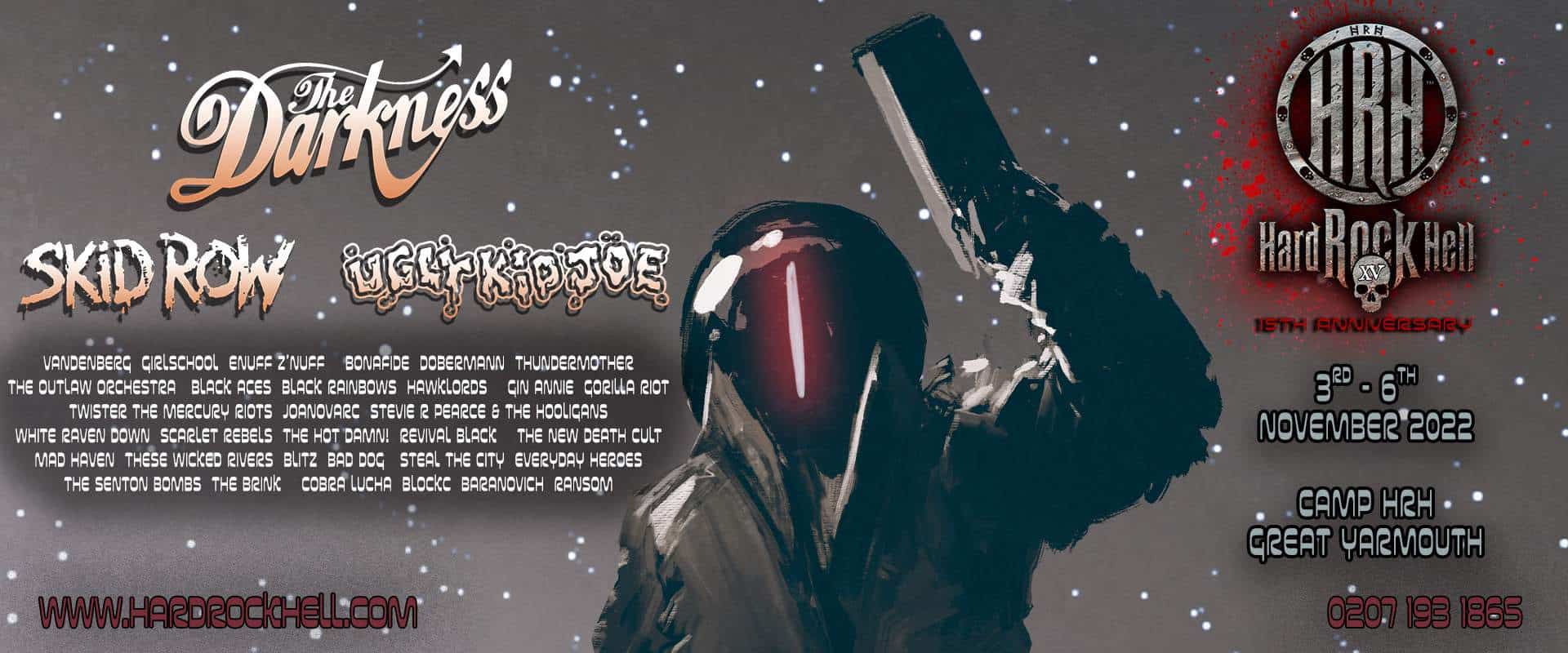 HRH: Hard Rock Hell or Hard Rock Heaven? It's a veritable query I pose to you out there reading. For me to answer, it surely must be heaven. At least that's how I walked out of the arena as Ugly Kid Joe had just rung out the final notes. Was I tired? Yes. In pain? Yes. Perhaps feeling a little sick due to the dampness, chill and rain? Yes. Drunk? Good Chance. Elated and walking on air? Yes!
My name is Rich "The Meister" Dillon from CGCM Rock Radio and this was my second time in Great Yarmouth. I come from Toronto 🇨🇦 and am an avid rock and roll supporter and world traveller. I attend literally as many events as I can for my preferred genres. This is my tale of HRH 15 which took place on November 3, 4 and 5, 2022.
Away We Go!
The trip started with a bang as I arrived in London on Wednesday, November 2nd. Meeting up with a good friend saw a night of rock bars and way too many beers in Camden. Thursday it was off to Great Yarmouth somewhere between moderately to severely hungover. *NB: HRH also has its awards ceremony taking place on Wednesday. Tickets are limited for that event and I was unable to attend it this year.*
Before long I was at my "van" sipping some red wine with a couple of my other 3 days' housemates. The concept of HRH is perfect. The site is a holiday camp so it's filled with "vans" which are basically what I would call mobile homes back in Canada. A little larger than a camper trailer. Everyone stays there on site and it's a short walk into the stage arenas. Perfect! As the rest of our group arrived, laughs and drinks began to flow. Easy to see everyone was excited.
Time For Live Music
The first band on Thursday was White Raven Down at 17:40. I got a little waylaid and didn't arrive in enough time to obtain my media and photo pass for the first 3 song allowance in the photo pit. The first band I would miss doing photos for of the weekend already🤦🏻‍♂️. But they sounded good. A beer and chatting with friends took me up to my first photo pit venture of the weekend. Twister!
Twister are a great young UK band and one to watch as they are on the rise. I've seen them at 2019's HRH as well as Call of the Wild where CGCM's Tom Cornell had an interview chat with them (Link). Although I've enjoyed the live sets, I've not spent much time with the recorded Twister and I need to rectify that for sure! The darkened stage setting with the "speaker cab TVs" blazing the Twister emblem erupted into a flood of lights as the band entered. If I'm not mistaken they began with "Save Us Yourself" followed by "Trees" both from 2020's Cursed & Corrected.
From there I got a bit lost overall in the setlist and upon exiting the photo pit found myself greeting so many friends and enjoying a beverage with them while Twister presented the audio backdrop. I did perk up on recognizing a couple of tunes from that same album, but also some stuff I was not familiar with.
Downsides
Unfortunately with everything positive, there are always some downsides. You take the good and the bad together. In this case, while as I mentioned the "Holiday Camp" is perfect for this type of event, the stage venue is absolutely less than that. The ceiling is quite low and the stage is not highly elevated. This creates a major sightline issue if you are more than two people back from the stage front. Even the VIP area (a raised platform at the back) seemed counterproductive as sitting in the seats provided there rendered the sightlines even lower than those standing. Or maybe it was just my perception…lol. I believe that the stage could and should still be raised higher by a foot or two and still offer enough clearance to the ceiling. Hey, bands, no jumping….lol.
Gorilla Riot was up next but their musical style was not really to my tastes.
Those Aces Are Black
The most anticipated act of the day for me was about to hit the stage as the clock struck 21:20 and I joined my peers in the photo pit. I'm talking about Australia's Black Aces. Absofuckinglutely brilliant! I have been following them since the 2016 album Shot In The Dark crossed my radar. Solid, straightforward, high-energy hard rock always gets my blood flowing. The opening cut would be "Let It Roll" according to the setlist taped to the stage floor and I was ready! I mentally had to tell myself to quit with the foot-tapping that involuntarily began before that first song was over. Hard to take photos when your whole body is shaking as the foot taps🤣.
The title track from 2017's Anywhere But Here album followed. "Too Young" was new to my ears, but as we exited the pit at its conclusion the band ripped into "Shot In The Dark". "Show Me Your Love" then ushered in "FeverDreams" off the last recording I have from Black Aces, the Never Change EP from 2019. It's clear that I'm missing something from their catalogue as the next two "Out For Blood" and "Paradise" were also previously unheard. "Good Woman (Gone Bad)", "Back On The Chain" and "Cut Me Loose" brought us to "Soulstealer" from back in 2015 as I headed for a beer in celebration of an excellent gig!
Getting Darkness In Here
The evening's headliner was The Darkness. Now I don't "love" The Darkness, but I'm not opposed either. I enjoyed the debut album, especially the radio hits that were heard everywhere. I can't say I've often heard those songs since then, if at all in some cases. I've sampled a few select songs from their releases after that, mostly due to someone requesting during my live radio show. Nothing really "took" me. But this was my first Darkness live gig, so I had a high expectation that they would draw me in. And that expectation is based mainly on the folks that speak very positively about the band.
Opening with "Motorheart" according to the setlist photo I snapped, I clicked away and really wasn't super tuned into the song. "Black Shuck" following however perked up my ears as I sang along in my head. "Growing On Me" kept things pumping along nicely and I was quite enjoying it. Time to exit the photo pit and also where I sorta lost track of the show. The negative side of this venue is the stage height as previously mentioned. And so coming out of the pit, there was little chance of getting close enough to really see anything. Granted they have large viewscreens set up, but with everyone standing in front of those too, they're also not high enough to see. This led to beers, chatting with friends and listening from the back areas.
I Could Use More Darkness
During the next 6 or 7 songs, I recognized not a one🤣. This did not assist in holding my rapt attention when I can't even see the band. That said what I did hear was definitely sounding great and I need to dive into some Darkness albums methinks. I did perk up on hearing songs like "Love Is Only A Feeling", "Friday Night" and "Get Your Hands Off My Woman" in the mix of the later portions of the set. Of course "I Believe In A Thing Called Love" came at the very end making 60% of that debut release in the setlist tonight. Excellent!
…and so ended day one on-site at HRH 15 for me. There may or may not have been some drinking in the "van" before bedtime rolled around….lol. Day two coming soon to CGCM Rock Radio.
HRH OFFICIAL WEBSITE / HRH FACEBOOK
Cheers,
The Meister
Find Meister Music Radio Shows here: Meister Music Radio Show Mixcloud
And my album reviews/blogs etc here: Meister Music
Meister on Facebook / Meister on Instagram / Meister on Twitter / Meister's Email