There's a Ghost in town and it's not Casper! I'm talking about the rock band Ghost, funny how I mention that band to so many people and they look at me and reply "Who? I never heard of them". Then I roll my eyes in disbelief.
So I do what I always do. Go on YouTube and show them videos of the band, Most people that hear them like their music.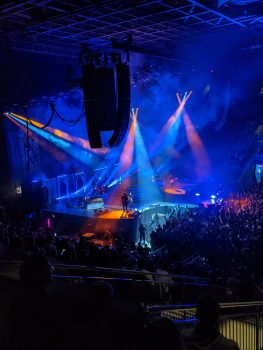 Ghost is one band at first I couldn't get into, But they grew on me, and I became a big fan. When they released their album Impera, it brought a little sunshine to my heart, that album is amazing! I love almost every song on it.  From that moment on I put Ghost on my bucket list as a live act I would have to see.  Little did I know shortly after the album's release, Ghost announced its tour date and voila!! Live in Laval, Quebec on Sept 16, 2022! I bought the tickets right away.
After watching Shinedown, Rammstein and Scorpions who were all great shows, (O.K. Rammstein will never ever be beaten live.) I didn't know what to expect with Ghost live on stage. I wasn't too worried though.
Starting The Show
Ghost opened up with the intro "Imperium" that immediately followed with "Kaisarion". It was the perfect start for the show.  The guitarist and bassist got on the front stage wearing their strange-looking gas masks and jamming to "Kaisarion". The drummer was on a Dalek-looking structure banging his drums. To his left, there was the keyboardist on some platform.  Also on both sides, there were backup singers on the same type of platform dancing at the moment. Then with all the swag in the world, Tobias walks to the front stage and starts singing the lyrics to "Kaisarion". The Place Bell erupted in cheers.
One thing I had noticed there were people of all ages at this show, Little kids with their painted faces like Tobias accompanied by their mothers. As well as older ladies with their daughters in their forties. Many fans had their face painted as well, and it wasn't Comic-Con! It was nice to see people getting into the character that Tobias portrays.
Elaborate Stage
Ghost had an elaborate stage set that took almost half the rink. I love the Cathedral backdrop and the castle-like entrance behind the drum set. This played a big part in the show as to where Tobias kept going almost after every song.
Tobias is known for his makeup and elaborate costumes on stage. Even his band mates, as I mentioned before, throughout the show were wearing this strange-looking gas mask, I can only assume it was ventilated.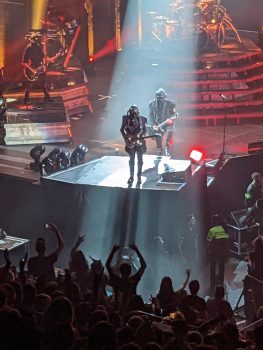 To see Tobias go in the back behind the doors and come back in his famous Dark Pope costumes is quite something. He gets the crowd going and it just brings a smile to your face.  I believe that there's a name and persona that comes with every costume he wears.
Tobias
Tobias Forge is also known as Papa Emeritus IV and has a great voice. He's no growler nor screamer, his voice is calm and yet powerful. At the same time a great entertainer, who gives the crowd what they want. The band's musicians are very talented, but I have to admit, I do not know who they are. They are known simply as Nameless Ghouls. If you ask me to categorize Ghost I couldn't. It's definitely Hard Rock, not really Heavy Metal. It's very melodic and ghoulish. This band if they existed back in the 80s would not be too accepted by many religious groups. Even today I'm sure they would be frowned upon.
Buy HEY!!! IT'S ROCK N ROLL BABY!!
Ghost set list is as follows
1.Imperium/Kaisarion,
2.Rats,
3.Faith,
4.Spillways,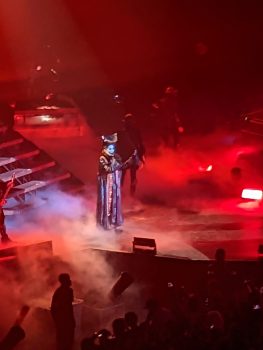 5.Devil Church,
6.Cirice,
7.Griftwood,
8.Hunter's Moon,
9.Ritual,
10.Call me Sunshine,
11.Con Clavi Con Dio,
12.Prime Mover,
13.Watcher in the Sky,
14.Year Zero,
15.Miasma,
16.Mary on a Cross,
17.Mummy Dust,
18.Dance Macabre,
19.Square Hammer.
As you can see they performed plenty of songs. They played for 1h30 minutes. Which for this band is good. The band's light show was very good it worked well with the songs.
I would highly recommend that you see Ghost live! It is a really entertaining show, lots of fun. Then again this is my opinion. You might not all like Ghost. But for those who do! It's worth the price of admission.
Follow The Ghost
You can find Ghost information at the following links below:
Ghost Official Website / Ghost Facebook / Ghost Instagram / Ghost YouTube / Ghost Spotify
So there we have it, folks!
Take care of yourselves and party on!
Dr. Tardis out!
Check out my other articles and reviews here. Dr Tardis.