Hellbound Iron Horse
DEVIL'S TRAIN ARE BACK! Need anything else to be said? With the anniversary of ten years coming in the very near future, and two amazing albums already under their belt, they are back, and back with a message for all their listeners. That message is to get ready because they are here to kick our collective asses for a third round!
The Sound
Devil's Train has its own very distinct sound. Is it Heavy Rock, Metal, Southern Rock? Does it really matter would be a better question?  Having signed with ROAR! Rock Of Angels Records, Ashes & Bones contains 12 songs to help anyone that needs to sweat off the pounds, and still be smiling at the end of the workout. How many gyms can lay claim to that? This bands line-up could be deemed a "supergroup" since it consists of R.D. Liapakis (Mystic Prophecy/Steel Prophet) on vocals, and monster drummer Jörg Michael (ex-Saxon/Stratovarius/Axel Rudi Pell/Running Wild) and bassist legend Jens Becker (Grave Digger/ex-Running Wild/Ex-Wild). Lastly, you cannot miss the Six-String wizard Dan Baune (Lost Sanctuary/ex-Monument). Whatever you want to call Devil's Train, you cannot call them bad. These guys have delivered an honest, in-your-face album that exploded with energy and attitude.
Ashes & Bones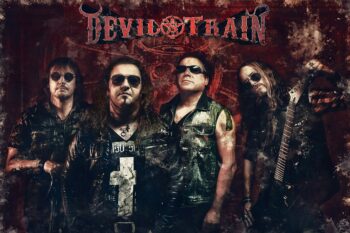 Their third album Ashes & Bones comes at us with twelve great tunes, and much like their last two albums, it closes with a cover track. This time the hard-rocking guys stepped out of their normal choice of a classic Hard Rock band, and surprise us with a rocked-up version of "Word Up" from Cameo. You might not think that this works, damn, you gotta hear this to believe it.  The album starts off with the first official single, "The Devil & The Blues". A slick drum and bassline lead us in as sirens wail and the guitar slips in. It's almost like listening to the beginning of a live show. You can see this as the singer finally walks on stage, and kicks in the vocals.  Roar! Rock Of Angels Records are really standing behind this album (as they should!) because you are going to be eventually treated to four singles and videos before the album even drops, and a fifth afterward. How often do you hear of albums with that kind of real push anymore?
Psychotic Thoughts
So, instead of my normal track-by-track analysis, I am going to just say this. Check out the self-titled album, then check out their second album simply titled II. THEN come back here, and check out the video of "The Devil & The Blues" posted below. I can absolutely guarantee that you will be heading over to the official site and placing your preorders!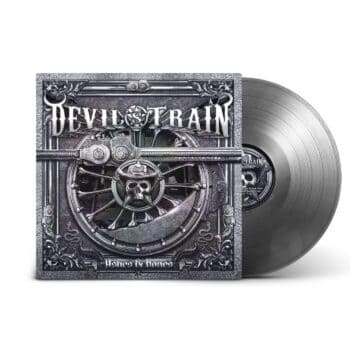 Speaking of which to all you collectors of vinyl, Roar! Rock Of Angels Records and Devil's Train are putting out a few renditions of this album with Silver pressings, Splatter Versions, and a Steel Box set as well.
Keep Rock alive, and Support the Artists!
Trevor "Psychoone" McDougall
Furthermore, check out all my reviews: Trevor's Archives
Email Me at Trevor "Psychoone" McD
Tracks
The Devil & The Blues
Girls Of South Dakota
Rising On Fire
You Promised Me Love
Ashes & Bones
More
In The Heat Of The Night
Smell Sex Tonight
Rock & Roll Voodoo Child
Hold The Line
Man With A Gun
Word Up (Cameo Cover)
[embedyt] https://www.youtube.com/watch?v=1VcQG6hMTPE[/embedyt]