Sometimes you discover a band. You then immediately (after listening to the album) jump online, seeking all the back catalog. After listening to the new album Danger Zone – Don't Count On Heroes, I did just that.
Hitting shelves October 18th, from Pride and Joy Music is the newest release, Don't Count On Heroes, from Danger Zone. This album is a definite step up from its 2016 predecessor, Closer To Heaven. Some could say they are almost sister albums. Yes, the melodic riffs, and hooks are here, but to me this album is just better overall. Let's say that after the many years that this band has struggled, and strived to find their "True Sound", it has finally truly happened.
A Band History
Founded way back in the early 80's, the band released its first album in Victim Of Time in 1984. Four years later, they got offered an opening slot for heavy metal legends, Saxon. That performance lead to a production deal that included plans to break into the US market. The following May the band began to pull together the next album, Line Of Fire. While this was beginning to take shape executive producer Stephan Galfas (Meat Loaf, Savatage, Stryper, John Waite and Saxon) began to get involved. He brought in Jody Gray and Mark Cobrin, from E.Z.O. fame, for production duties.
With high hope, and a bright future, the guys began working on rehearsals, and their live show for the move to L.A. Although hopes were high, due to what seemed like endless negotiations, the band began to fall apart, and fall short of funds. Not to mention at the time, the L.A scene was being hit hard by the grunge movement. All this combined forced the band to abandon all, call it quits, and return to Italy.
The Saga Continues…
Years later, and Line Of Fire is gaining an underground cult following. Finally in 2011, the album finally sees the light of day. Although the band had reformed already in 2010, and was working on their upcoming release. Danger Zone band members, Roberto Priori (guitars), Paolo Palmieri (drums) and Giacomo Gigantelli (vocals) entered the studio adding new bassist Roberto Galli to their line-up. Production was once again being handled by Roberto Priori and Jody Gray, (one of the production team from the Line Of Fire album).
Helping to promote this release, the group played several shows in Italy and some Summer Festivals. In 2014 they released a single and a new video of the E.Z.O. song "Fire Fire". Keeping the Danger Zone name alive by playing live whenever they could. The band began work on new songs. The sound began to take a more melodic tone than before so it was decided to add Pier Mazzini (Perfect View) and Whitesnake's Michele Luppi on keyboards. Come summer of 2015, the boys started the recordings, laying down new tracks at the PriStudio with Roberto Priori and Jody Gray once again handling production. Once again the engineering duties were handled by Roberto himself.
It Isn't Over yet!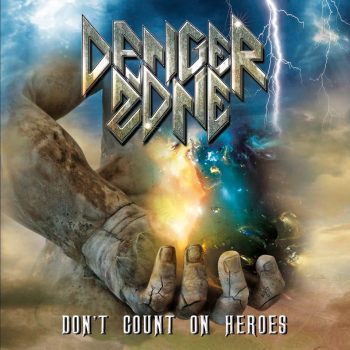 With a positive energy and attitude. Hard Rock and AOR melodies were mixed together and as a result, the band felt the album shows a sound and identity that they felt truly represented them as a band. Now we fast-forward to 2019, and once again, we get from the band a truly fantastic album. Filled once again with that true Hard Rock and AOR sound that they know their fans love, and that they excel at delivering.
Psycho Thoughts
From the beginning of "Demon Or Saint" to the truly epic "Eternity", Don't Count On Heroes will be sure to grab any fans and knock them into their seats while at home. Or kick their asses up when they see it being played live! You will not want to let this one slip by. So mark your calendars. On October 18th, this one drops, and unless your drunk, stoned or dead, you should get your copy as soon as you can!
Until Next Time!
BUY – AMAZON.COM
Email Me at: Trevor "Psychoone" McD
Furthermore, check out all my reviews: Trevor's Archives
Trevor "Psychoone" McDougall
Tracks
Demon Or Saint
Faster Than Love
Somewhere Out There
Destiny
Down To Passion
Rise Again
Hang Onto Your Heart
Forever Now
Rolling Thunder
Breakaway
Eternity
[embedyt] https://www.youtube.com/watch?v=lcKDa-ufMc8[/embedyt]