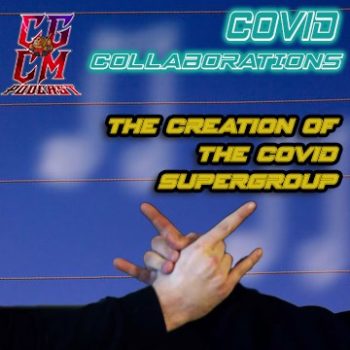 The year 2020 will go down in history for one of the worst years ever. It's hard to find anything positive in a year where there was the loss of so many personal heroes like Eddie Van Halen, Paul Chapman, Neil Peart and Little Richard to name a few.  The Covid 19 pandemic has really hit us hard; it shut the world down and has had a huge economic impact.
The Music industry already hurting financially due to the rise in popularity of streaming services was hurt even further by the fact that the quarantine had added another blow to the artist's income stream. Without the ability to tour some bands were forced to hold back any releases that they had planned. So what does the musician do now? Well if you are Phil Demmel, Charlie Benante or Jen Majura, call up some friends to jam to some classic tunes and you put out some videos of the experience.
COLLAB-A-JAM
Phil Demmel (ex-Machine Head, BMPD) started Collab a Jam; they have recorded 8 covers with a wide variety of musicians. They have done covers of Black Sabbath, Thin Lizzy, Van Halen, and Ozzy to name a few. I personally love the Ozzy cover of "Revelation (Mother Earth)". It's one of my favourite Ozzy songs and gets a great representation here. It has Dino Jelusic (Animal Drive, Dirty Shirley) on vocals, Rudy Sarzo on bass, Mike Portnoy on drums. I love everything about this video, the vocals are outstanding, (I'm a huge fan of Dino's singing) the keyboards and violin are well done and the drumming is typical Portnoy. They even do a nice nod to "Over the Mountain" at the end.
.
YO!
Charlie Benante called his collaborations YO!, they cover some deep tracks that aren't the hits that most people know unless they are true fans of the original, songs by Massive Attack, U2, and Fleetwood Mac to name a few. A standout you need to check out is the one they do for Mother Love Bone's – "Chloe Dancer/Crown of thorns". It's Fantastic.
.
JOEL HOEKSTRA/DINO JELUSIC
I mentioned earlier that I was a huge fan of Dino Jelusic, he has done quite a few collaborations and one of my favourites is one he did with Joel Hoekstra, Tony Franklin, and Virgil Donati. They cover Deep Purple's "Stormbringer". Dino can sing the phonebook and I would enjoy it, the way Joel plays the guitar makes it seem so effortless. Tony Franklin playing the fretless bass and Virgil on the drums makes a great rhythm section.  Trust me this one is a must-see.  Dino and Joel also team up with Mike Portnoy on Jefferson Starship's "Jane".
.
COVID COLLABORATION JAMS
Head on over to YouTube and search out some of these collaborations. There are lots more out there. Jen Majura (Evanescence) has some good videos that are only around a minute in length, they don't do the whole song, but there is a great variety, Sammy Hagar and the Circle have put some out as well that are good.
There is a positive to this terrible time and it comes in the form of music. These collaborations make me feel great and hope that once this Pandemic is over we might get some new supergroups or even maybe they decide to release these songs. Covers are always going to be a topic of debate but that is another post. For this one, I just want to enjoy them for what they are doing and that is bringing me joy listening to some great music in a terrible time. There are lots of other ones that I have not mentioned, if there are some that you liked please let me know in the comments.
Until next time