Hey kids, Rich "The Meister" Dillon here with this little blog review regarding Cobra Spell and their performance during the Warm-Up Party for Headbangers Open Air 2022. I must say overall that there were a few bands at Headbangers Open Air that I would see for the first time here. These bands were highly anticipated. Cobra Spell fell directly into that category. They slipped right past me on their initial music release, but the second EP, Anthems of the Night, hit home hard!
Some Spell History
One of my biggest anticipations of my first adventure to Headbangers Open Air took place during the Wednesday Warm Up Party. That was Cobra Spell, a band based in Netherlands and Spain. Cobra Spell first hit my radar after discovering Swiss metal outfit Burning Witches. At the time of discovery Sonia Anubis (then going by Sonia Nusselder) held the guitar position from 2018-2020). Sonia has since moved on from Burning Witches and Cobra Spell is her own project. Sonia formed the band in 2019 and the initial 4-song EP, Love Venom arrived in 2020. On that initial EP, we find bassist Angelina Vehera, vocalist Alexx Panza, guitarist Sebastian "Spyder" Silva and drummer Mike Verhof.
Two years later, now having departed Burning Witches, the Anthems Of The Night 4-song EP landed. This time we saw Léonard Cakolli sitting down in place of Verhof and Esmée van Sinderen in for Silva weilding guitar. Currently, the band features only Anubis and Vehera (bass) from those initial recordings. Band members changing for various reasons like Panza choosing to focus on his other band, Hitten and Cobra Spell conducted applications via posting on their social media for the current members. And so, live on stage here at HOA we saw beside Anubis and Vehera, Kristina Vega (vocals), Anna Voloshyna (guitars) and Jess ? (drums). I hope I'm correct on the players' names.
Novice Photography Disclaimer
Now, let me say here that I am an aspiring photographer and extremely new in the practice. I have much to learn, but supply throughout this blog and in a gallery below my novicely mediocre captures from the set. I can say without a doubt that these five ladies were absolutely fun to photograph. They all displayed animation and energy with the vigour of their youthful ages. Hair flying everywhere, heads whipping about and lots of activity and cool poses to capture. Many bands seem to be standing still in many instances on stage, but these ladies exhibited an action-packed and engaging visual presentation. Hopefully, some of my photos can successfully convey that to the viewer/reader.
Musically there's no slouching here either! Make no mistake, this is not just a group of eye candy supermodels for the predominantly male population in the Farmers Field in Brande-Hörnerkirchen, Germany. As found on the Anthems of the Night EP, my first listening to Cobra Spell (I really need to get my hands on that first EP), the band bashed out a mixture of traditional styled and super catchy compositions throughout the set. The band seemed to my ears tight and well-rehearsed with lots of smiles exchanged around. But the real stars were Vega and Anubis.
Vega and Anubis
Vega held the crowd entranced in her every word and stage presence/movement. I found her vocal capabilities strong and powerful with a forceful confident delivery that was most impressive. Several times Vega and Vehera (bass) would animatedly "play to each other". The songs that I knew from the set, those found on Anthems, sounded so good live and yet still somehow made superior by Vega's vocals and presence.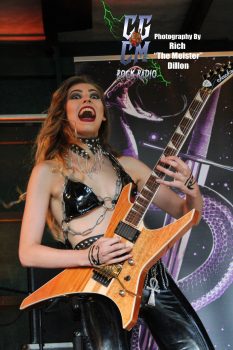 Anubis made her guitar notes dance from her fingers as she expertly wielded her Jackson six-string weapon of choice. She not only displayed confidence and character on stage visually and musically but clearly was loving every single second. Her long mane of blonde hair flew in all directions often obscuring her face as she whipped and banged her head around. Her facial expressions throughout the set were pure magic and unabashedly natural and infectious. Her smile was miles wide and rarely subsided from her face. Anubis literally felt, no wait, "lived" every note channelled through her guitar. Such an engaging performer. And so much fun to photograph trying to catch all the expressions too.
Cobra Spell At Headbangers Open Air

I didn't know every song played, therefore assuming some selections from Love Venom. But I loved everything! Cobra Spell did play all four compositions found on Anthems of the Night. And, as I said earlier they sound great with Kris Vega belting them out! Cobra Spell also whipped out a cover song and a great one too. Maybe chosen since Blackie won't play it anymore, but it was none other than W.A.S.P.'s "Animal (Fuck Like A Beast)".
Chance Meetings
Directly to visit the merch girl after the set saw me coming away with the "Accelerate" t-shirt. Immediately I pulled it on over my previous shirt and headed to the beer cart. I'm not sure how long after that it was as I lingered, enjoying a beer in that area and mingling and meeting folks. Cobra Spell guitarist Anna happened by me. I really hope I have her name correct as I found it online and during the band intros on stage I thought Vega said "Anja". I introduced myself and thanked her for a great show. She commented on my t-shirt saying it was her favourite since it was printed in the Ukrainian blue and yellow, her background.
Still, a while later outside of the stage area, I ran into Sonia, Kristina Vega and drummer Jess ? seated at a picnic table. Again, I hope the name is correct. I found no info online and during the intros on stage it really sounded like Vega said "Jess"). I also introduced myself from Toronto, Canada and thanked the ladies for an amazing set. The only band member that I didn't happen across was bassist Angelina Vehera.
I had anticipated seeing Cobra Spell live and the show upheld my expectations strongly. I look forward to the new music currently in the works from Cobra Spell.
Headbangers Open Air 2023
Also, I'm all set for Headbangers Open Air 2023, purchasing my "Metal Ticket" at this year's event. BTW, folks, it's actually a "Metal Ticket" not just a name. A piece of sheet metal with the ticket printed on. They whack it with a hammer to "ding" or punch it as used…..so cool.
Now I just need a place to live for the festival. The approximately one-hour walk from town is hard on my old man feet.
COBRA SPELL OFFICIAL WEBSITE / FACEBOOK / INSTAGRAM
Cheers,
The Meister
Find more Meister Music Radio Shows here: Meister Music Radio Show Mixcloud
And my album reviews/blogs etc here: Meister Music
Meister on Facebook / Meister on Instagram / Meister on Twitter / Meister's Email