Chaos & Carnage 2022 Tour
"People are liking Metal again and it's fucking AMAZING!" Screamed Suicide Silence Vocalist, Eddie Hermida, from the stage. And he couldn't be more right.  As we stood side by side without a centimetre between us and no fear of that virus that shall not be named, we all had one goal in mind, simply to have our faces melted by some of the biggest and bestest metal bands on the planet. The WC Social Club in West Chicago IL was the venue, the night was a rare gorgeous midwestern night and it was the third of six sold-out Chaos & Carnage shows in a row.  As a matter of fact, only four of the 24 shows on this tour didn't completely sell out. So, yeah I'd say that people are loving metal again!
The Bands
Distant
A deathcore/metal band from Rotterdam, the Netherlands.
This is their first time touring the US and because of Visa issues, only two members were able to come.  Side rant: WHY does the US make it so hard for bands to tour here? Really sucks!  Drummer Jan Mato and Vocalist Alan Grnja were able to make it and they had Jordan Milner from The Breathing Process fill in on guitar.
Thing is though, even with only two band members, they absolutely killed it!  The house was packed and ready to go.  Distant came in with electric energy and lit the place up!  If they can pull that off with only two members they must be a force to be reckoned with when everyone is on stage.  Alan, Jan and Jordan gave it their all and the crowd soaked it in. Kudos to them for pulling it off.  Distant, we hope you return to America soon with all members.  Sorry the US let you down.
Apologize4Nothing says: Distant was a great way to start the show.  Great songs that got the crowd hyped.
AngelMaker
A melodic/deathcore band from Vancouver BC.  They are insanely awesome.  The dualling vocals of Mike Greenwood and Cody Tyson-Pearce bring this band to another level.  Man, these guys can squeal and I mean ear drum shattering, loud and fierce x2.  The guitar licks were intense and aggressive, the drums were brutal and the bass gritty.  A perfect combination of relentless talent.
Apologize4Nothing says: This was my second time seeing AngelMaker.  I wish they would have played more songs.  The vocal range was just as amazing as when I saw them in 2019.  I like the two vocalist-different from most bands.
Signs of the Swarm
A Deathcore band from Pittsburg PA. Did I say the masses were amped and ready to mosh, yet?  Well, they were and there was no room! Like none. Didn't stop them. And Signs of the Swarm were ready to oblige. Commands for "Circle Pit" were answered and the body surfing started.  Signs of the Swarm bombarded us with their heavy, massive breakdowns and showed not one little bit of mercy.  It was hot as hell in the venue by now but no one cared. That's just how it's supposed to be.
Apologize4Nothing says: They played my favourites "Collection", "Pernicious" and "Death Whistle".  I wish they played more of their old stuff, but they got the crowd moving.
Upon a Burning Body
A Texas metalcore band. They were a slightly different style but fit well into the mix. Their high energy kept the crowd moving with incredible guitar licks and powerful vocals.  "Texas Blood Money" was definitely a fan favourite.
Apologize4Nothing says:  They played all my favs, "Extermination," "Texas Blood Money," "Sin City" and "A New Responsibility".  They have an unusual sound and it's easy to understand their lyrics.
Lorna Shore
A Deathcore band from NJ.  They were the fifth band to hit the stage and the fans were showing signs of getting tired and wanting to go home, HAHA not even close! Lorna Shore hit the stage and BAM! The energy went up to the next level. I didn't know there could be a next level, but there was and it was wild. They packed the WC. I said that before, right? No, but I mean really packed. Such a sea of people that I considered body surfing to the bathroom. Lorna Shore just killed it. The headliner hadn't even hit the stage yet and the house was brought down! Will Ramos has an epic vocal range and huge talent. His vocals combined with flawless guitar work, skull rattling bass and unabating beat of the drums make this a perfect combination!
Apologize4Nothing says: Love the new vocalist. He has been doing a much better job than the old vocalist. They now have a bigger following. New songs "Sun//Eater" and "To Hell Fire" have gained them popularity. Will Ramos can pull off an impressive vocal range even live.
Headliners
Carnifex
Bad Ass; Epic; Rad; Sick; Amazing; Incredible? I'm trying to come up with an adjective to describe these guys, but nothing quite fits.  They are full-on, hard-hitting, high energy, in your face brutal! They dominate the stage with savage breakdowns and ferocious vocals. This was our third time seeing them and they always blow us away. There is nothing like it. New Darkness to this show was the addition of Arthur the Skeleton lurking around. Very cool add. "Hell Chose Me" is my favourite to see live and they didn't disappoint. I can't wait until the next time we can see them.
Apologize4Nothing says: They always have an incredible show. This time they did a cover of Slipknot's "Heretic Anthem" dedicated to Joey Jordison. It was really cool and the crowd loved it.
Suicide Silence
Closed out the show and ended the night of epicness. They were the cherry on top, the icing on the cake, the cream in the coffee. Choose your own metaphor, just know that they topped off this hard-to-top fest of the best ever Chaos & Carnage lineup.  It was a long day of moshing, sweating, head banging & screaming but the hordes of fans not only persevered but harnessed all that energy they had sucked in from the bands and let loose. The crowd surfing became constant, especially after Eddie told a young fan that had just jumped on stage for a stage dive "this is your stage, come on up" and so they did. They called for the Wall of Death and it happened. It was especially cool to see with all those people participating. Suicide Silence is a monster of a band that knows how to dominate the stage and master the audience. They are a must-see live and the perfect way to end the night.
Apologize4Nothing says: The Wall of Death was sick during "Disengage".  Incredible live band. Love Eddie's vocals. I thought it was cool when he shouted "This is your stage too!"
OFFICIAL CHAOS & CARNAGE WEBSITE / FACEBOOK
Chaos and Carnage tour is almost to a close, but if you are lucky enough to get a ticket to one of these last few sold-out shows… GO! You are in for one Hell of a night. Get ready to have your face melted and skull split open, in a good way. Eddie is right metal is back and my bleeding ears couldn't be happier!
And Also…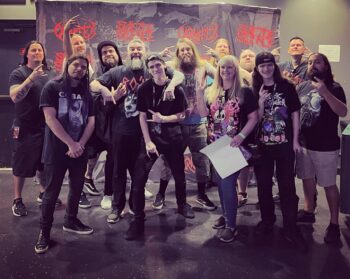 Apologize4Nothing adds: Do the Meet & Greet!  One of the best I've done.  They are relaxed not rushed.  The bands didn't push people through and wanted to talk to the fans. The merch was also great.
Special Shout out to WC Social Club staff Apologize4nothing and I agree that security was great and the sound guy who told each band that he loves them was incredible!  Apologize4Nothing says the chicken tenders are the BEST.
Krysti "Kryfar" Farnam
**Introducing Co-reviewer, 15-year-old Quinn "Apologize4Nothing" Farnam
Check out more of my CGCM reviews at: KRYFAR