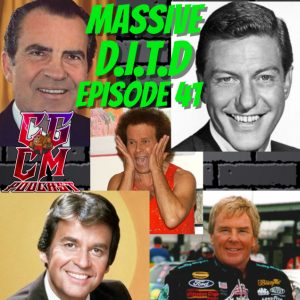 The Canadian Geeks are having DITD withdrawal. It is tradition that the CGCM opens each show with each host spinning their own Dick in the Dirt Tracks. A song that has been rocking their world that they want to share, it could be new, could be old but for whatever reason that song has been "knocking their dick in the dirt!". Que the Sammy Hagar! The Canadian Geeks have been neglecting their DITD's too long. Here is CGCM Podcast EP#41-The Massive D.I.T.D.
So this episode is nothing but DITD's! Two solid hours of nothing but idiots playing great music! It's the Massive DICK in the Dirt episode. For those that actually read these show notes. Be sure to give us some feedback on all of the great bands and music found within the episode! If you dig it, BUY IT! – Cheers.
To continue the mayhem check out our other Audio Episodes and rate us on Podchaser! And as always: buy the albums! AMAZON.ca / AMAZON.com
Furthermore, the CGCM Podcast is proudly sponsored by Rhythm & Brews Brewing Company in Cambridge, Ontario. By The Farm Rehearsal Studios/Farm Rocks Build-A-Band Program in Markham, Ontario. And by Cloven Hoof Rum in Brighton and Hove, UK.