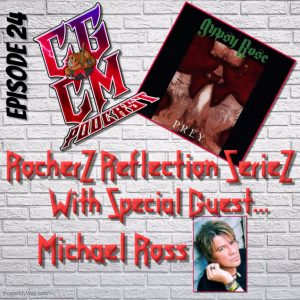 The Canadian Geeks are thrilled to bring you the very first ever RockerZ Reflection SerieZ episode featuring Gypsy Rose's Michael Ross. For those that might not be aware of Gypsy Rose, the band came out of Sarnia, Ontario Canada. They caught the ear of one Mr. Gene Simmons (KISS) and quickly signed to Simmons Records/RCA, releasing their debut album "PREY" in 1990.
We should note that the PREY album was a large topic of conversation on the night that Wallygator and the Meister first met each other. The music conversation that consumed that fateful evening included each of them recalling albums from their respective collections. And PREY was one that collectively knocked their dicks in the dirt!
The Geeks sit down with founding member and vocalist Michael Ross for an in depth interview as it appears that 2018 will mark a re-birth for the Gypsy Rose camp. A new lineup, new music and a new lease on life!
Stories include how Gene Simmons first heard the band. Cancellation of the European Prey Tour. And how a close friend of Michael diligently catalogued and took care of every recording Gypsy Rose ever did. Those tapes have been critical in bringing the band back! Also an interesting connection with the band Greta Van Fleet.
Great friend and Gypsy Rose SUPERFAN, Mikael Svensson from Sweden calls in to assist with the interview asking some very insightful questions about the formative years of Gypsy Rose.
Special thanks to Michael Ross for spending some time with the podcast and especially for letting us share some new Gypsy Rose music.
Wallygator's D.I.T.D. Track – Once Around – Crimson Jimson
The Meister's D.I.T.D. Track – If Looks Could Kill – Primal Fear
To continue the mayhem check out our other Audio Episodes and rate us on Podchaser! And as always: buy the albums! AMAZON.ca / AMAZON.com
Furthermore, the CGCM Podcast is proudly sponsored by Rhythm & Brews Brewing Company in Cambridge, Ontario. By The Farm Rehearsal Studios/Farm Rocks Build-A-Band Program in Markham, Ontario. And by Cloven Hoof Rum in Brighton and Hove, UK.