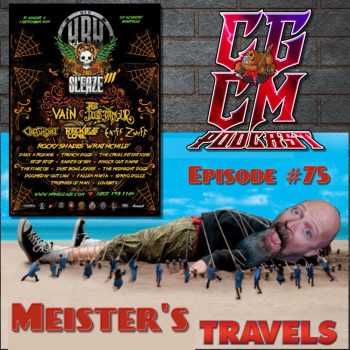 The CGCM Podcast is proud to unveil a new recurring theme for their audio podcast episodes! Co-host Rich "The Meister" Dillon is widely known for his globe-trotting rock and roll adventures. Enter the Meister's Travels series, which technically began some episodes back with our Call of the Wild, or Sweden Rock, even the Rocklahoma and Hair Metal Heaven podcast episodes. In any case, here he is freshly returned from HRH Sleaze III to tell co-host Wallygator and you the listener all about the event. Of course, he spins some awesome music from that bands the played too.
HRH Sleaze III
It's always sad at the end. But it is upon me. My time at my first Hard Rock Hell event, HRH Sleaze, is winding down. Overall it was a fantastic experience. The venues, the bands, the people. While, I did not see every performer, not one that I did see was off their mark. Even one of my most hated bands in the world delivered a set that held me in trance.
A part of the Hard Rock Hell family, HRH Sleaze III, is as you guessed, the third installment of the annual festival. It takes place in Sheffield, UK and the lineup for 2020 is already announced with still more to come! The Hard Rock Hell organization presents many festivals throughout the year, this HRH Sleaze III being my first, but not my last. Next up is HRH Punk followed by the original HRH.
I'll do my best to recap some of those experiences and band performances here as I tell Wallygator all about it. Take a listen to CGCM Podcast Episode #75-HRH Sleaze III featuring songs from many of the artists and interviews with two of the best bands all weekend!
Track Listing for CGCM Podcast EP#75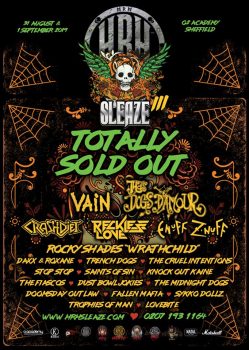 Wally's D.I.T.D. – Faster Pussycat – "Bathroom Wall" (FACEBOOK)

Meister's D.I.T.D. – Electric Radio Kings – "Downshifter" (FACEBOOK)

King Kraken – "Fear" (FACEBOOK)

StOp sToP! – "Lies" (FACEBOOK)

Vain – "Beat the Bullet" (FACEBOOK)

Lovebite – "Sin City" (FACEBOOK)

Lovebite – "Love/Hate" (FACEBOOK)

Wrathchild (Rocky Shades) – "Do What You Wanna" (FACEBOOK)

Cruel Intentions – "Jawbreaker" (FACEBOOK)

The Main Grains – "We're Happy 'Round Here" (FACEBOOK)
Daxx & Roxane – "Ticket to Rock" (FACEBOOK)

Daxx & Roxane – "Hard Rockin' Man" (FACEBOOK)

Sykko Dollz – "Cheap Trick Baby" (FACEBOOK)

Trench Dogs – "Self-Sabotage" (FACEBOOK)
HRH Sleaze IV 2020

The Meister is already set to return for HRH Sleaze IV in 2020. Excited to see his mates in Kickin' Valentina in the roster along with a wicked lineup, 2020 promises to be even better than 2019! Check out the poster for details. Who's joining this crazy Canadian Rock and Roll traveler?
Feel free to like and share, but most of all if you like what you hear, support the artists and buy the albums! AMAZON.ca / AMAZON.com. To continue the mayhem check out our Audio Episodes and rate us on Podchaser!
Furthermore, the CGCM Podcast is proudly sponsored by The Farm Rehearsal Studios/Farm Rocks Build-A-Band Program in Markham, Ontario. And by Cloven Hoof Rum in Brighton and Hove, UK. In co-operation with King Art Music Management/Promotion, in Helsingborg, Sweden.