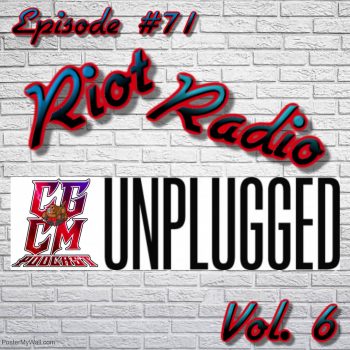 Our regular listeners should be getting used to our Riot Radio series. Every other episode we present to you a true alternative to regular radio. You know, those stations that play the same 30 songs over and over and over again? You won't find that here at Riot Radio! 
Every Riot Radio brings you a dozen or so songs that most likely you have either never heard on terrestrial radio or at least not in the last 2 or 3 decades.
Riot Radio Vol. 6 is a little different. Wallygator jumps into the DJ seat and goes Riot Radio Unplugged. He figured it was best to do this on his own knowing full well that his co-host would want nothing to do with such a theme. 
Riot Radio Vol. 6 – Unplugged
Unplugged acoustic music is nothing new, but the concept really came to light when MTV launched its MTV Unplugged series in November of 1989. Many genres of music embraced the concept and huge Unplugged albums became all the rage. Eric Clapton, Rod Stewart, Nirvana, Alice In Chains and Tesla all released very successful acoustical albums.
This episode is loaded up with some familiar artists and some maybe not so familiar. All of them stripping down their tunes to the are bones acoustic and unplugged. 
Alas, the Meister gets wind of what's happening and calls in a very special request not wanting to be left out of this unplugged episode! 
Track Listing
Intro Song "Riot" by Blue Murder
"Love is Waiting" – Carl Dixon
"Summertime Girls" – Y&T
"Modern Day Cowboy" – Tesla
"Wild In The Streets/No Rest For the Wicked" – Helix
"Don't Turn Your Back On Me Now" – Gypsy Rose
"Comin Home" – KISS
"Electric Gypsy" – LA Guns
"Keep The Spirit Alive" – Russ Dwarf
"Hooligans Holiday" – John Corabi
"House Of Broken Love" – Great White
"Seasons Of Wither" – Aerosmith
"House On Pooh Corner" – Darby Mills
** The Meister's phone in request – "Heaven and Hell" (unplugged???) – Dio
Feel free to like and share, but most of all if you like what you hear, support the artists and buy the albums! AMAZON.ca / AMAZON.com. To continue the mayhem check out our Audio Episodes and rate us on Podchaser!
We want to hear what you think! Tell us your favourite tracks from this all of the Riot Radio Episodes. We will use your votes and comments to compile and end of year CGCM Podcast Riot Radio Chart. Remember the old CHUM 30 Charts? Help us create Buzzsaw's Top 24! Why 24? It's always beer related with the Canadian Geeks.
Furthermore, the CGCM Podcast is proudly sponsored by The Farm Rehearsal Studios/Farm Rocks Build-A-Band Program in Markham, Ontario. And by Cloven Hoof Rum in Brighton and Hove, UK. In co-operation with King Art Music Management/Promotion, in Helsingborg, Sweden.