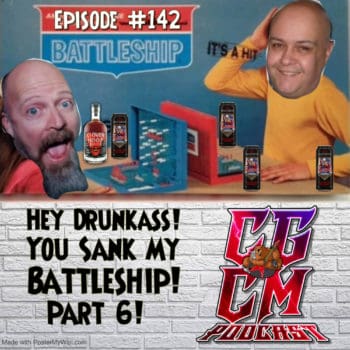 You sank my battleship! The boys are back for round 6 of Battleship here at the CGCM Podcast. What is CGCM Battleship you ask? It is just one of the many idiotic ideas that the Canadian Geeks have come up with to randomly play some great music.
In the Milton Bradley game (that was debuted in 1967), the objective is to fire blindly at the opponents navel fleet. Hitting and sinking all of the enemies ships wins the game.
Wallygator calls out random coordinates in an attempt to locate the enemy ships. Each and every coordinate uncovers a different CD from the Meister's collection. We then play a random song from the selected album. In the first 5 parts, Wallygator has yet to locate a single ship. Will the Meister finally yell "you hit my battleship!"?
Battleship Part 6…
Will Wallygator finally hit one of the ships? Will he uncover one of The Meister's deep, dark embarrassing albums? I won't ruin all of the surprises but I can tell you that this one showcases some melodic rock and some random unknown tracks that even the Meister hasn't even heard. It also uncovers some super heavy, possibly the most brutal metal ever played on the CGCM Podcast! It might also uncover a somewhat embarrassing sugary pop song hidden deep in the Meister's library of rock! Let the teasing begin…
Feel free to listen, like and share, but most of all if you like what you hear, support the artists and buy the albums! AMAZON.ca / AMAZON.com. To continue the mayhem check out our Audio Episodes and rate us on Podchaser!
Furthermore, the CGCM Podcast is proudly sponsored by Iron Maiden Beer Canada, The Farm Rehearsal Studios/Farm Rocks Build-A-Band Program in Markham, Ontario. And by Cloven Hoof Rum in Brighton and Hove, UK. In co-operation with King Art Music Management/Promotion, in Helsingborg, Sweden.