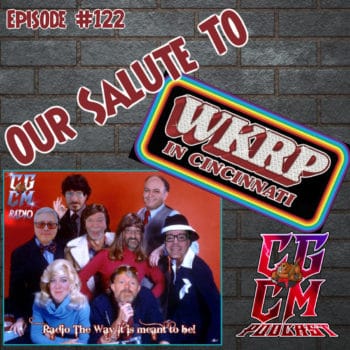 "All right, Cincinnati, it is time for this town to get down! You've got Johnny… Dr. Johnny Fever, and I am burning up in here! WHOA! We ALL in critical condition babies, but you can tell me where it hurts, 'cause I got the healing prescription here from the big 'KRP musical medicine cabinet! Now I am talking about your 50,000-watt intensive CARE unit, babies! So just sit right down, relax, open your ears REAL wide and say "Give it to me straight, doctor, I can take it!" I almost forgot, fellow babies… BOOGER!"
This week the Canadian Geeks salute one of the greatest television sitcoms of all time, WKRP in Cincinnati. The show ran for 4 seasons (1978-1982) and followed the staff of a fledgling rock and roll radio station. The ensemble cast unknowingly influenced a couple of Canadian Geeks who years later would meet, become friends based on a love of music and then launch their own internet radio station. CGCM Radio – "What Rock Radio Should Be". Tonight's episode celebrates the show and its loveable characters and features some of the music that was heard on the airwaves of the mighty WKRP!
Open You Ears Real Wide!
The CGCM Podcast is now on CGCM Radio!
3 Ways you can listen to CGCM Radio
Go to http://www.cgcmpodcast.com click play on the embedded player near the top of the page and crank it up! http://player.live365.com/a81635
Go to http://www.live365.com search for CGCM Radio, hit play and crank it up!
Download the LIVE365 App for your iphone or android, search CGCM Radio and crank it up!
Don't forget you can also catch us on Dazed Rock Radio. Tune in Friday nights at 5:00pm CST and again Sunday's at 1:00pm CST. Dazed Rock Radio can easily be streamed using the Live 365 App
Feel free to like and share, but most of all if you like what you hear, support the artists and buy the albums! AMAZON.ca / AMAZON.com. To continue the mayhem check out our Audio Episodes and rate us on Podchaser!
Furthermore, the CGCM Podcast is proudly sponsored by Iron Maiden Beer Canada, The Farm Rehearsal Studios/Farm Rocks Build-A-Band Program in Markham, Ontario. And by Cloven Hoof Rum in Brighton and Hove, UK. In co-operation with King Art Music Management/Promotion, in Helsingborg, Sweden.