Call Of The Wild Festival 2022
CGCM Rock Radio has just experienced The Call Of The Wild Festival in Lincolnshire, UK. Two delegates, Scotsman Tom Cornell and Canadian Rich "The Meister" Dillon continue their coverage of the event here with this dually written account of Saturday, May 21. More coverage will follow including daily accounts, band interviews, and photo galleries. Organizer Dave O Hara will also be live on air with Meister on Friday, June 3rd as well for a wrap-up radio show.
Please "like" and share on socials and spread the word about Call of the Wild Festival. Tickets for 2023 are now on sale! Who will join us in a field in Lincoln UK next year?
Call Of The Wild Official Website // Facebook
**In a day that was already chock full of a tight balance between amazing bands and hanging with friends, unfortunately, a few bands became casualties as neither Tom nor Meister saw them on stage.**
Saturday for CGCM's Tom Cornell
TOM: Saturday was a rather busy day with a number of interviews (which will all appear here at CGCM over the next week or so). This meant I didn't catch that many bands compared to other days. However, what I did see and take notes on was very good indeed!
Saturday Morning at COTW – Meister
MEISTER: Damp, I recall it being damp and chill. Basically the same every morning. But despite that, not at all unpleasant. A Breakfast sandwich at the campsite breakfast tent and a mediocre coffee. Unfortunately, Dead Skull wasn't yet open…. probably a late night what with the DJ party happening in the Dead Skull Tent after Massive Wagons wrapped up.
MEISTER: As soon as the boys were alive, we secured our Dead Skulls and undertook our customary aimless morning walk. My travel partner, Mike had heard a couple of songs over the stage PA yesterday. After some "Shazaming" he deemed he wanted to be certain to catch Tom Killner, who had an early set today.
Tom Killner
MEISTER: Tom Kilner on was exactly as advertised. A literal wizard, but the bluesy down-home Skynyrd sound isn't my real flavour. Mike, however, was beside himself with glee and after linking up with Tom Cornell in the crowd the two were like kids in a candy store! Tom has more below: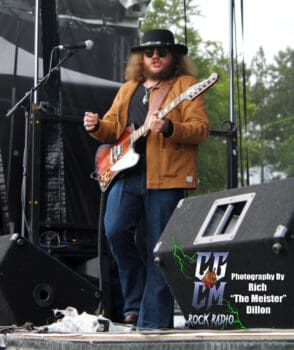 TOM: First band I saw was the Tom Killner Band and by God, they were excellent! A mix of blues and Southern hard rock with some fine guitar soloing. Lots of very tasty keys along with a lovely soulful voice which at one point had me thinking of John Fogerty a bit (in fact the last song had a real Creedence Clearwater Revival or CCR for short about it). That is a compliment as personally, they are one of my favourite all-time bands! I didn't catch all the song titles (my apologies) but as they were all good my job is easy. "Do It Again" was whisky-soaked dirty blues rock with just hints of Southern rock. "Don't Waste My Time" was dedicated to the people of Ukraine who are fighting for their lives. The song, he explained, is really about the ruling classes and how they are "fucking us over". This had an almost funky vibe in places. It grooved, it swung, and it made me dance (badly). The closing song "On The Other Side" was a mix of CCR and 70s Quo with a bit of Skynyrd thrown in for good measure. Seriously good stuff.
TOM: The good news is that frontman and guitarist Tom kindly gave me some time after he had packed his stuff away to have a chat. That interview is already up on-site at CGCM. (Interview Link)
Official Website // Official Facebook
Sweet Teaze
MEISTER: I was curious on this group as no matter my searches back home in Toronto, I found nothing to elude to their sound at all. I knew, of course, that COTW organizer Raz White was the guitarist and the band had recently reformed. But that I gleaned from his Facebook page!
MEISTER: They had a great rock/sleaze mix to their sound I thought as I photographed from the photo pit. A few songs in and Raz's young son Leo slipped onto the stage to play rhythm guitar next to Dad. What a beautiful moment….and if I'd been half a photographer, I'd have gotten some great captures🤦🏻‍♂️.

Bootyard Bandits
TOM: I was a tad late to the party, and I say "party" as that is what they were having and causing. In fact, when I arrived at the stage they were on there was a bloody fine singalong in progress. I loved the singer's comment "are you having more fun than you were 20 minutes ago?" which created cheers and laughter. This was also the first time seeing a banjo player on any of the stages at COTW as they played their fun brand of country-inspired rock music. "Hoedown Showdown" caused a fair bit of dancing on and off the stage. They were a huge amount of fun to watch as they pranced about like loons. They were very popular pulling in a huge crowd, it also seemed lots of people here knew all their songs. Want to have fun? This band certainly brings that. I enjoyed what I saw.
MEISTER: Ah….I somehow would have been disappointed if this band had NOT had inflatable cacti on stage! Not a big fan of the country-rock style personally, but I had a lot of fun photographing these dudes.
Official Website // Official Facebook
Shiraz Lane
MEISTER: So, if you heard my COTW radio livestream shows at all, you'll know that for some unexplainable reason, I didn't dig Shiraz Lane. That stems back to years ago when I first heard them. But then I heard the new single "Scream" and really enjoyed it. Going back in the catalogue, since then, I have quite enjoyed what I heard. What was wrong with me before? Who knows, but I'm sure many have a long list…lol.
MEISTER: The Shiraz Lane live experience is something else that is off the charts! And yes, I'd also seen a little of that before too, but now I'm on point! This Finnish band rocked the decent-sized COTW afternoon crowd with an intensely compelling vigour and energy. I was a little mesmerized while snapping photos and had to shake myself clear a couple of times. Hearing "Scream" live as well as my favourite song, "Do You" instilled a rock n roll high in me that would carry on all day long. Can't wait to catch them at Wildfest in Belgium next week.
Official Website // Official Facebook
Wraith
MEISTER: I discovered this band some time back through the 2017-issued Revelation album and especially the opening track "Lifeline". What an absolute banger and a favourite song in which I hear a lot of RATT, that always gets the blood pumping. I hoped I'd hear it today! The band actually dates back to the late 80s with albums such as Riot and Danger Calling, Schizophrenia in the 90s and Evolution in the 2000s.
MEISTER: Wraith was set on the Dead Skull stage under the tent. Now I've not commented on that stage, particularly as yet, but I feel it was too small, with an annoying support pole in the middle of the stage view and not great sound in there overall. I would recommend to COTW organizers in 2023 a different setup and perhaps even moving stage three outside where it can be a little larger as well.
MEISTER: As for Wraith, they were simply amazing! I loved every minute of the set despite the overly loud and little bit muddy sound in the tent. They opened up with "Lifeline" and loving it so much I didn't even snap a photo during that lead-off track. The remainder of the set whipped by featuring songs like "Invasion", "Into The Fire" and "Under The Hammer". I was able to procure the setlist after and a quick chat with the vocalist (whose name I didn't catch and it seems undiscoverable via the internet) revealed that he was actually of Canadian heritage. I thanked him for the set and rushed off to catch the tail end of Middlenight Men. Later in the day, I caught up with guitarist Gregg Russell for a photo and he gave me a guitar pic!
Official Facebook
The Middlenight Men
MEISTER: I arrived in time to catch the very tail end of The Middlenight Men. I'd wanted to see them having enjoyed my pre-festival listening, but the conflict with Wraith didn't really allow it.
Official Website // Official Facebook
She Burns Red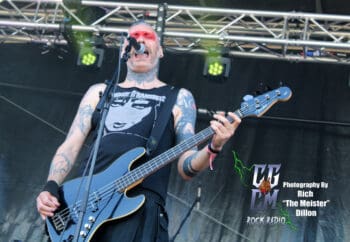 MEISTER: I also wanted to catch She Burns Red on stage based on heavy direction from my friends in Kickin Valentina! They had played some shows together and DK even tipped me off that he would be out on stage with them for a song here at COTW. However, still reeling from Wraith (that I had so looked forward to here at COTW) after my photo duties in the pit, I relegated to the back of the audience to enjoy a beer and a chat with friends. While we all still watched She Burns Red, I don't know the songs played. They were quite decent and exhibited a great stage presence as well. I shall definitely look them up in future. Oh, and DK Revelle of Kickin Valentina did indeed come out for a song with them.
Official Website // Official Facebook
Archy And The Astronauts
TOM: Now, this was a surprise as this band was not officially on the bill. Due to someone else having to pull out at the last minute this very young 3-piece stepped in. I had interviewed them previously (that was fun as well as interesting and you can find it here: Interview Link) when I had no idea who they were and hadn't even heard them! I was very curious to see what they sounded like and also how they would handle the occasion. They showed a good number of influences and styles between the songs they played. "Tectonic" was quite funky and had a few tidy drum fills. "Shadow" was about "someone who is a bit of an arse and won't take the hint to go away" and in my notes, I recorded it had a bit of a "60s" vibe. "Devil's Daughter" was more laid back, almost quite jazzy, rather cool and enjoyable. They played a song which apparently they only finished the night before so "if it's shit you know why" which caused some laughter. There was a Weezer vibe about it (I like them so no complaints) and at the end, one person in the crowd shouted out loudly "it's not shit" to which Archy replied "put that in the reviews" causing plenty of laughter. Consider it done… oh and I agree it "wasn't shit"😀.
TOM: I really liked the opening of "House On Fire" with the bass up front and lots of lovely cymbal work going on in the background, again a bit 60s (early era Fleetwood Mac a little). "Recoil" was another funky track with some lovely bass work going on. I loved the drop-down musically into the one-word chorus. They closed with their single "Stone Cold Killer" and even managed to get a crowd singalong with the sides singing different lines. Brave thing to do at any time but they managed it. One of the best comments of the festival came from Archy when he said at one point "thanks for coming along to see us at the start of our musical journey". They were chuffed to be here, gave everything and so won many friends in the crowd.
Official Facebook
Vega
MEISTER: Another band I would see again next weekend at Wildfest in Belgium. I have seen them before as well. These guys are UK Melodic rock at its finest. And I enjoy it every time I see them, every time I hear the songs. But somehow, none of the songs seem to overpower another in standing out. They're just all solid featuring some good riffs and excellent drumming from Pete Newdeck.
Official Website // Official Facebook
Wicked Stone
TOM: Rhythm guitarist Tom Lane proved to be the metal warrior of the weekend after he went over on his ankle on the first song and had to have his knee put back into place by paramedics at one point. He had to sit for most of the set and looked in a shit load of pain but he was not going to let his band mates or the crowd down by stopping. The band did a set of groovy heavy metal songs that were accessible to all. They have an ear for melody whilst pounding out some seriously heavy-sounding riffs. They opened with the title song of their 2017 debut album Ain't No Rest which set the tone. They followed that up with their new single "Say Goodbye To Yesterday" which emphasized the strength in Joe Hawx's vocals. "Unchained" has a gentler opening before a massive riff kicks in. It is one of those that demands your head and body move.
TOM: They also gave us a taste of their upcoming album in "Broken Heartbeat" which they hadn't done live before. The bass came through heavy at the start. This was actually very catchy, more hard rock than metal. Finishing with "Another Round" seemed wise as all around me folks were headbanging away madly. The band rather cleverly had flyers that you could scan with your phone to preorder the new album as well. Great idea. A set which could have gone wrong due to an accident but turned into a triumph. That is how it is done!
MEISTER: I'll heavily concur with my colleague Tom Cornell here on this set. I have been anticipatingly looking forward to Wicked Stone for some time having found the Ain't No Rest album and featured tracks in past CGCM Podcast episodes. The set did not disappoint (aside from my growing hatred of the tent stage with its annoying support pole). I look forward to hearing the new Synergy album from which I played lead single "Say Goodbye To Yesterday" in my live stream shows, complete with an intro by Joe Hawx. Awesome set!
Official Website // Official Facebook
Kickin Valentina
MEISTER: Ah, my boys! I do love this band. I didn't at first, I always enjoyed, but not loved. It took me a while to really cultivate the love and it was their set at the inaugural COTW that really drove it home. That was the first time I'd witnessed vocalist DK Revelle fronting them on stage. And, wow, does he ever draw all the other elements together with an almost indescribable completeness. This can be heard in full form through their latest album (#1 of the year here at CGCM Rock Radio), The Revenge Of Rock. The third band of the day that I would also see at Wildfest in Belgium next week…..and I wish I could've seen a couple of their club shows as they tour the UK/Europe as well.
MEISTER: Kickin Valentina had quite the following here. I think their destroying performance in 2019 helped. But they are veritable masters at cultivating a following wherever they go. Their secret is simple. They love their fans more than the fans love them. They hit the stage at COTW with such a force and vigour it was amazing. The band powered through a near-perfect setlist heavily balanced on the Revenge of Rock album. But they also included cuts from pre-DK Revelle, which he absolutely owned. The band were clearly having a ton of fun up there and left me with heavy anticipations of seeing them again next week.
Official Website // Official Facebook
Romeo's Daughter
MEISTER: Despite a hit (mostly in the UK, but still) in the late 80s, I only happened across Romeo's Daughter when their name appeared on the pandemic cancelled versions of COTW. Decent melodic pop-rock with some great velvety vocals supplied by Leigh Matty. Perhaps a little on the lighter side of my musical tastes, but enough punch and catchy hooks to keep me entranced. Not super knowing their songs aside from the aforementioned hit "Heaven In The Backseat", I can't say what was played or not played. But everything went over smoothly and I basically just lied back and enjoyed.
To my understanding, Romeo's Daughter have a new album set for this year, so if that is indeed true, I'll be on the lookout for it. And you should too, but in the meantime, start with "Heaven In The Backseat".
Official Website // Official Facebook
Crashdiet
MEISTER: I love Crashdiet! Have since I first found them back many years now. I've followed them through albums and lineups and been fortunate to see them several times. Sweden Rock, HEAT Festival, HRH, Toronto and more. This is a band that needs to be on The Monsters Of Rock Cruise alongside some of their Swedish counterparts that have cruised in recent years. They always deliver in their live shows and Gabriel Keyes is a perfect choice to front this Swedish Sleaze/Glam/Melodic band.
MEISTER: This set was no different and frankly Gabriel seemed on fire! He appeared uncontainable on stage as he covered every inch of it multiple times. And yes, that includes climbing up the side stage rigging to hang off while still singing. And how fitting that they play directly before Reckless Love featuring former Crashdiet vocalist Olli Herman You just knew that Olli would be up there for a song (maybe because I'd seen it before, but still)!
Official Website // Official Facebook
Reckless love
Not sure if I've ever seen Reckless Love or not. Strikes me as a "yes", but for the life of me, I can't recall where! In any case, I loved the show here at COTW! Reckless Love's latest album is quite a bit polarizing to fans. Its sound, while being rooted in Hard Rock also melds in disco dance beats. This has not been noted as favourable to many. I, on the other hand, find it brilliant! In fact, I prefer this to other albums from the Finnish Glam band even!
Not surprisingly and excellent for me, the Reckless Love setlist weighed heavily on Turborider's songs with four tracks in the mix early on. "Outrun", "Turborider", "Kids of the Arcade" and my personal fave "Eyes Of A Maniac". I danced (by myself) and sang along (mimed the words as my singing is akin to the tone-deaf), loving them all.
On stage, they looked like Crockett and Tubbs ripped off the 80s tv screens of the hit show Miami Vice. And it suited well with the sound. Olli poked some fun at the backing track craze/rage after the "Turborider set". "Of course we use them", he said. "But here's what we sound like when we don't!" Then they ripped through some of the Reckless Love back catalogue. Among those tracks was closing song "Hot" which was a single off 2011's Animal Attraction album. And what a choice to wrap up on! Reckless Love went out on a high note tonight, a very high note. Can't wait to see them on ship for Monsters Of Rock Cruise in April! All in all a great show!
More to come…
And there's our account of Friday at Call Of The Wild Festival 2022. Stay tuned for much, much more content in daily accounts, interviews, photo galleries and livestream radio shows.
Tickets on sale now for COTW 2023 with VIP already 75% sold! Get yours today!
Call Of The Wild Official Website // Official Facebook
*Written by Rich "The Meister" Dillon and Tom Cornell for CGCM Rock Radio.
CGCM's Full Coverage of the whole event can be found here: CALL OF THE WILD FESTIVAL 2022