Are you wishing that you could experience a wicked music festival? Have you seen the roster of bands for the 2022 edition of the UK's Call of the Wild Festival? Perhaps you are getting ready to attend Call of the Wild Festival? Well, no matter which side of the fence you find yourself on here, CGCM Rock Radio's Rich "The Meister" Dillon can help you out!
Starting Thursday, April 28th he will launch the first of three separate live stream video/radio shows on Call of the Wild Festival. Each of these three shows promises to be a minimum of two hours long! That's a whole lot of Call of the Wild Festival music! The Meister named Call of the Wild his favourite festival of the year in 2019. That was the first time that the event happened and was so smoothly run by friendly staff and organizers. He'll have some stories as well as the tunes and might even see a special guest drop in, who knows!
These shows will take place on the MixCloud platform which offers the ability of live video and an interactive chatroom as well as the rockin' audio. Meister will surely be acting goofy on camera as is his norm. There may be awkward dancing, air-drumming and let's not rule out beer spilling onto his keyboard again! In addition, these shows will also be simulcast audio on CGCM Rock Radio Station on Live365.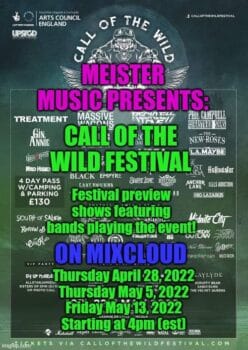 CALL OF THE WILD LINKS:
LIVESTREAM BROADCAST SCHEDULE
First Show
Thursday, April 28, 2022 starting @4pm (EST – 9pm UK)
Second Show
Thursday, May 5, 2022 starting @4pm (EST – 9pm UK)
Third Show
Friday, May 13, 2022 starting @4pm (EST – 9pm UK)
FACEBOOK EVENT PAGES:
MEISTER MUSIC LIVE TO AIR RADIO SHOWS
CGCM ROCK RADIO COTW COVERAGE: