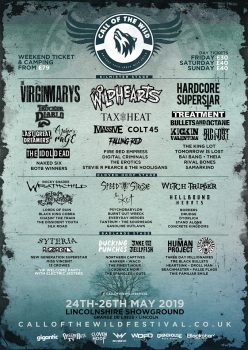 Just when you thought that the roster was complete, Call of the Wild Festival strikes again. The Call of the Wild Festival is a first time event taking place May 24-26, 2019 in Lincolnshire, UK. Featuring three full days and three stages jam packed with the acts from the big names like The Wildhearts and Hardcore Superstar to the lesser known bands. Back in February I reported here on CGCM that the lineup was complete with the unveiling of The Treatment and Bigfoot (link).
But Call of the Wild just keeps on giving and today announced The Brink.
Post on the Call of the Wild Facebook Page:
We are super excited to announce that The Brink will now open our main stage on the Saturday.
With a debut album crammed full of rock hits about to be released on Frontiers Music Srl in May, The Brink are a great addition to our festival.
Join me, CGCM Podcast's Rich "The Meister" Dillon, in Lincolnshire May 24-29, 2019. Festival sponsor Cloven Hoof Rum, coincidentally also CGCM sponsor, is onsite with their delicious product. Expect The Meister to hang out here…ALOT! Listen to CGCM Podcast Episode #53 with our special guest, Paul from Cloven Hoof Rum. Let's "Raise the hoof" and have a great rocking weekend!
TICKETS here or here
Cheers,
The Meister
CGCM Podcast / Meister on Facebook / Meister on Instagram / Meister on Twitter / Meister's Email
[embedyt] https://www.youtube.com/watch?v=po1q0HoVlw8[/embedyt]