Well, River Cree Casino wanted a Summertime type party and that's what The Bret Michaels Band brought. Bret Michaels brought the Parti-Gras tour to a "sold out" River Cree Casino on September 16th, 2023. Bret Michaels came off the Stadium Tour in 2022 and went straight into tour mode with 2023 and the Parti-Gras Tour.  The back of the stage was adorned with 6' x 6' backdrops of the sun setting and palm trees. Bret Michaels had stated it was going to be a fun summertime tour and that's what it was, filled with Poison hit after hit.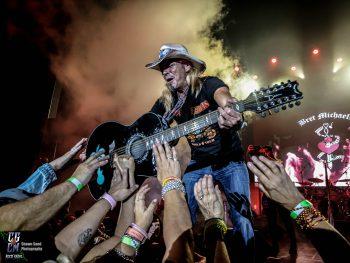 Bret Michaels who turned 60 years old this year shows no signs of slowing down as he bounced and jumped around the stage with the energy of a 20-year-old. Bret Michaels's solo tour band is as follows: Bret Michaels (Vocals), Meri Schaefer (Drums), Norman Voss (Bass), Pete Evick (Guitar), and Dean Cramer (Guitar). You would have thought last night Bret was in front of a stadium with the energy and enthusiasm he displayed as he had the crowd in the palm of his hands. If he could have shook hands with every person at the show last night I'm sure he would of. He truly appreciates his fans from the Poison era and his solo career. The whole band was on fire you had Pete Evick and Dean Cramer coming out onto the stage catwalk and shredding with great energy then you had Norman Voss twirling around thumping on his bass like a tornado and can't forget Meri Schaefer who delighted the crowd with a drum solo.
The Bret Michaels Band played songs from Poison's first-ever radio hit to Poison's most popular ballad which has always been a hard song for Bret Michaels as it was written about losing his closest friend off their Open Up And Say Ahh! album. The night seemed to fly by with the band never really losing steam or energy, they played two of the classic Poison ballads and the rest was all classic hits with no filler.  Bret Michaels's solo band played for approximately a 90-minute set list (See Below). They closed out the night covering "Sweet Home Alabama" where brought out some of the Edmonton Elks and the opening act Invertigo.
Bret Michaels Set List:
Talk Dirty to Me (Poison song)
Ride the Wind (Poison song)
Look What the Cat Dragged In (Poison song)
Your Mama Don't Dance (Loggins & Messina cover)
Something to Believe In (Poison song)
Unskinny Bop (Poison song)
Every Rose Has Its Thorn (Poison song)
Nothin' but a Good Time (Poison song)
Sweet Home Alabama (Lynyrd Skynyrd cover)
BRET MICHAELS OFFICIAL WEBSITE / FACEBOOK
Check out more of my reviews and photos: Shawn Sand