Bobaflex
Bobaflex loves Wisconsin and Wisconsin loves Bobaflex.  The massive turn out for their long-awaited reunion show at The World's Largest Brat Fest in Madison WI is proof of that.  To steal a line from their epic song "Home" The Crowd was on Fire, but I'm sure they recognized many faces since it seemed like every fan from the Midwest was in the masses.  I was lucky enough to be one of the 20-30 VIPs with a secured spot up front, or else we undoubtedly would have had to arrive hours early to get a coveted place on the rail.
The Return
Chants of "Bobaflex, Bobflex" erupted from the fans several times during the show, eliciting huge grins from the band and a "calm down, now" from Marty McCoy so they could keep within their allotted time (40 short minutes, I believe)
They came bursting out onto the stage with Shaun McCoy on vocals, singing "Chemical Valley".  This was the much-anticipated return of Shaun after his goodbye show about 3 years ago.  The other band members went on to form The Lonely Ones, who also put on an incredible, high-energy show at Brat Fest, the day before.
Was it really 3 years ago?  You couldn't tell.  Shaun was back on stage like he had never left.  He was dynamic and energetic, leaping into the crowd and running up the center aisle while belting out the song written about their hometown and its opioid crisis .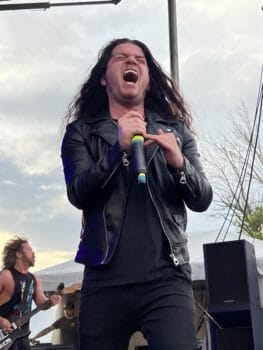 Shaun sang two more songs "I am a Nightmare" and "Mama Don't Take My Drugs Away" which started out with Shaun telling a young fan to stay away from drugs, then handed the lead vocals over to his brother Marty McCoy, who jumped right into one of my favorite songs "Vampire"!    Marty has continued touring with his band The Lonely Ones and is an extremely talented frontman and singer.  If you need proof just listen to Bobaflex's cover of Pink Floyd's "Hey You" which they performed that night.  Sounds just as amazing live as it does on the radio.
The Guys
Even after a 3-year hiatus, Bobflex is a tight band.  They work together like a well-oiled machine.  Each member doing their part to entertain the fans.
Jymmy Tolland is the constantly moving and grooving bass player.  He not only can play the hell out of that bass but boot scoots all over the stage while doing so.  He is highly entertaining to watch.
Jake Early is the cool cat shred master of the band.  With his usual solo stance of one leg tossed up on the speaker and fingers flying, Jake makes playing the lead look effortless even if it's anything but that.
Tommy Johnson is the backbone of the band, his feet are constantly working the double bass as he relentlessly pounds on the drums.  A stuffed octopus rides on his kit to every show.  I've never asked but I imagine this guy represents the mad-skill it takes to tackle the drums like he does.
For the Fans
Bobaflex is a fans' band.  They truly love and care about their fans and know many by name.  In January 2020 a long-time fan passed away from cancer.  The band dedicated the song "Home" to Carie, as her daughter watched from the crowd.  It was a heartbreakingly, special moment and I'm sure Carie was there in spirit singing along.  I'd like to add that her daughter Cara would love to have a video of this special moment. If anyone reading this happened to capture it, please contact me, it would mean a lot to Cara.
The Love & The Hate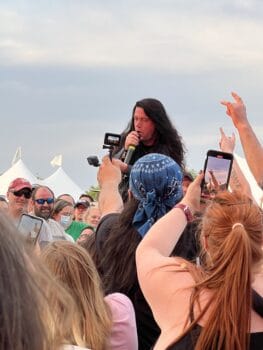 The show ended in classic Bobaflex manner with Marty catching a shoulder ride from a fan and being carried out into the crowd singing "Bury with My Guns On." Even though I have a love/hate relationship with that song, love the song/hate that it means the end of the gig, it was great to see it live again and hear the crowd roar.  I'm sad that it is over but so happy it happened.  They played all the fan favorites.  Putting on the exact show that we have been waiting so long to see.   Welcome back, guys!
They are Bobaflex and don't you fucking forget it!
https://www.facebook.com/thelonelyonesband
Written by Krysti "Kryfar" Farnam
Photos by Kryfar