You can find the Collective List as well as all our Best of 2022 content including contributors' individual lists, podcasts and radio DJ shows here: CGCM's Best of 2022 (Year in Review)
BEST OF 2022 – Trevor "Psychoone" McDougall (Graphics/Writer) 

🇨🇦

Another year draws to a close. A year of great music, and live acts returning to the stage. People travelling around the globe to take in festivals yet again.  One thing that comes at the end of each year is the top 10 list. Probably one of my favourite times. The rediscovery, the small, and fun arguments with the other CGCM Rock Radio teammates because of the diverse tastes, but it is always fun, and sometimes opens my own eyes (or theirs) to something that may have been missed.

One thing I like to do because of the workload involved is to start right on New Year's Day. I start immediately with a new list. As albums start coming out, I start listening, and if the album makes the playlist of ten, then the fun begins. It may stay or drop in position, as the year moves along. The whole list might change completely. It's a process that makes my task at year's end much easier. So much better than cramming 300 albums in a few weeks, and not giving the music the proper attention, it deserves.

Well, enough about my process, let's get into my personal top ten albums of 2022! Agree or disagree, it's the wonderful thing about music…there is something for everyone. Let's just celebrate that great feeling that we get when we hear those chords being struck, the slam of the cymbals, or the beat of the bass…Let's just rock and raise our fists into the air!
10 – H.E.A.T – Force Majeure
🇸🇪
One that knows me might think this Swedish band would appear a little higher in my choices. This isn't a slam by any means to the return of Kenny Leckremo, as I was a fan of his earlier days in the band but coming from their last album H.E.A.T II in 2020, the energy, and vibe seemed just a little toned down on this one to my ears. Still some great moments on this one for sure. Perfect choices for singles like "Hollywood", "Back to the Rhythm", and "Nationwide" prove that no matter who is the band's frontman is, these guys have chops and aren't afraid to prove it!
CGCM Rock Radio Album Review: H.E.A.T. – Force Majeure (Kryfar)
09 – FELSKINN – Enter the Light
🇨🇭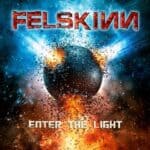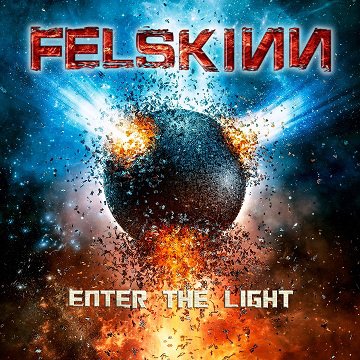 Probably a band that many of you might not be familiar with.  Well, you should be! This band from Switzerland has been around since about 2007 but never made it to my radar until this release. Hard, heavy, and melodic when it needs to be, this is a band to keep an eye on because I think they could be a huge contender if they continue on the trajectory, they are taking with Enter the Light.  Be sure to spin the single they have put out, and if you like their sound support the music, and buy it!  You can get those details from ROAR – Rock of Angels Records.
CGCM Rock Radio Album Review: FELSKINN – Enter the Light (Dr. Tardis)
08 – IRON ALLIES – Blood in Blood Out
🇩🇪
Iron Allies might be able to be considered a supergroup of sorts. With one of hard rock and metals' hardest working frontmen, David Reece (I mean does this guy ever stop to rest?!), and pair him up with one of the greatest guitarists still today, Herman Frank and you end up with some killer riffs with magnificent vocals. I can't dismiss the rest of the band, however. The contributions of Malte Frederik Burkert on bass, Mike Pesin on Guitar, and Francesco Jovino on drums bring you a sound unlike anything else. I truly hope this is a band that will continue, and not a one-off like so many other collaborator albums that have been coming out. One listen to Blood in Blood Out, and you will know exactly what I mean.  This deserves a follow-up soon.
07 – NEW HORIZON – Gate Of The Gods
🇸🇪
When Erik Grönwall decided he was going to pass the torch back to Kenny in H.E.A.T., that didn't mean that he was leaving the band behind completely. He made a fantastic metal/Power metal album with ex-bandmate, Jona Tee. Unexpected to me that I would love this so much, but there it is, a true masterpiece of that classic Heavy Metal sound, with the delivery of a modern-day power metal hymn. There isn't one track I press skip on.
06 – HARDCORE SUPERSTAR – Abrakadabra
🇸🇪
The Swedes seem to have a running theme throughout my list this year, and HCSS isn't any different. This band from Gothenburg, Sweden slide into my #6 slot after bouncing around since its March release, but never fell off my personal list. The title track alone is enough to have you hooked for the next hour. These guys have been rocking for about 20 years now, and they know how to rock for the next 20!
CGCM Rock Radio Album Review: HARDCORE SUPERSTAR – Abrakadabra (Rachel Leigh Vendetta)
05 – SKID ROW – The Gang's All Here
🇺🇸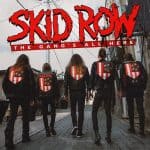 Who would have thought after all the drama over the years in the Skid Row camp that it would once again be a name on the tips of everyone's tongues in 2022?  Erik Grönwall gets yet another mention in my top 10 list of 2022 because he is now the newest frontman, and quite honestly the best fitting they have had since the early days IMO. This album gives me the same feelings as the Skid Row debut and the fantastic follow-up from yesteryear. Unless you have been under a rock these past few months you've already heard many of the singles from The Gang's All Here, maybe it's time to check out all the rest.
CGCM Rock Radio Album Review: SKID ROW – The Gang's All Here (Kryfar)
BUY: AMAZON.ca / AMAZON.com / AMAZON.co.uk
04 – FURY – Born To Sin
🇬🇧
Another shocker for me. I wasn't familiar with Fury before hearing this album (another perk of being part of the CGCM family!) but one song in and I was hooked. This four-piece metal band from England, UK makes old school metal like their influences Iron Maiden, and Metallica. This is for fans that seek a newer flavour but still crave that old-school, familiar vibe. You cannot go wrong here at all.
Already it's time for the top 3 albums of 2022 the Psychoone Edition!  One thing I have noticed this year is that I leaned toward the harder-edged and hungry bands. Yeah, there might be a couple of familiar names that have a history, but it's also a new chapter in their careers. Maybe after all that Pandemic BS, I was craving something with an edge, a hunger for success like the old days of my favourite era of Hard Rock and Metal. Regardless it's all great music, right?
Let's get into this….The top three from 2022, according to me…The only true Psychoone from CGCM!
03 – DEVIL'S TRAIN – Ashes & Bones
🇩🇪
Bluesy hard rock mixed with some great metal vibes this album Ashes & Bones just struck a chord with me that hasn't left. Catchy hooks, blistering riffs, and an album that will stay in your rotation for quite awhile.  This on dropped late June and hasn't left my player since. I would be willing to bet that once you hear it, it might not leave yours either.
CGCM Rock Radio Album Review: DEVIL'S TRAIN – Ashes & Bones (Trevor "Psychoone" McDougall)
02 – THUNDERMOTHER – Black And Gold
🇸🇪
Hard rock didn't know what hit it when Thundermother appeared on the scene back in 2010. The band from Stockholm, Sweden has changed almost every member except founder Filipina Nassil. In August they dropped their 5th album Black and Gold, and in my opinion, everything about this album is pure gold. Loved every single dropped so far and bought it as soon as I could. On Christmas Day my wife followed it up with the rest of the catalogue. Nothing is better than supporting the artists, and as much as I loved my iTunes versions, there is a nostalgic feeling to sitting and reading those liner notes.
My #1 album of 2022. It really shouldn't shock anyone that knows my preference of style of music. This band just hits all the marks for me. Moving up from the #2 position from last year's list to #1 in 2022 is…
01 – MADHOUSE – Down 'n' Dirty
🇦🇹
Dropping late July, this is the one album I was anticipating like a child on Christmas Eve. Available from ROAR – Rock Of Angels Records, every release from this band since 2019's Money talks and Bullsh*t Walks has made me yell out to anyone that will listen that this proves beyond a shadow of a doubt that Rock is alive and well, and is rising up like a phoenix from the ashes, and Madhouse if picking up where bands like RATT, Motley Crue, and GNR left off.
CGCM Rock Radio Album Review: MADHOUSE – Down 'n' Dirty (Trevor "Psychoone" McDougall)
Furthermore, check out all my reviews: Trevor's Archives
Email Me at Trevor "Psychoone" McD