You can find the Collective List as well as all our Best of 2022 content including contributors' individual lists, podcasts and radio DJ shows here: CGCM's Best of 2022 (Year in Review)

BEST OF 2022 – Dave Wilks (Writer/Contributor)
🇺🇸
2022 was a beautiful year of rock and roll. This list covers the gamut from New Wave of Traditional Metal, modern prog, doom, pop metal, and hard rock. It's topped off with one album that blended it all together.
As usual, I loved quite a few more than a measly 10 albums. Putting together this list every year is hard, and I'd like to call out a few albums that didn't make the list but still deserve a listen. Skid Row brought in former H.E.A.T singer Erik Grönwall and returned to form with the album my money is on for #1 on the CGCM countdown: The Gang's All Here. Haunt delivered once again with Windows Of Your Heart. Reckless Love crushed their love letter to 1987: Turbodrider. And I couldn't get enough of Dorothy's Gifts From the Holy Ghost or Audrey Horne's Devil's Bell.
10 – ERIC WAGNER – In The Lonely Light of Mourning
🇺🇸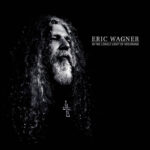 COVID took Eric Wagner from us in 2021, but he had one final gift for his fans. In The Lonely Light of Mourning acts as a global funeral for doom lovers across the globe. Put this on with a friend who shares a love for Trouble or The Skull and cry, smile, and remember.
Wagner seems to know what's coming. The songs delve into regret, repentance, and speculation on what's next. The final track, "Wish You Well" is a perfect sendoff.
CGCM Rock Radio Album Review: ERIC WAGNER – In The Lonely Light Of Mourning (Dave Wilks)
9 – SPELLBOOK – Deadly Charms
🇺🇸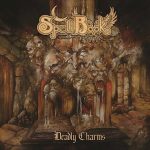 What a great dark, heavy metal album owing a great debt to 70s sounding old school metal! Spellbook's latest Deadly Charms is a masterclass in macabre metal.
Based on a true story, "Rehymeyer's Hollow" embodies the atmosphere of witchcraft and murder in 1928. The song is packed with heavy riffs, strong solos, and interesting pace changes. With an album called Spellbook, your best tracks better fall under the witchcraft theme. "The Witch of Ridley Creek" delivers with sinister vocals, bluesy riffs, and eerie harmonies.
To me, Spellbook's a perfect mix of early 70's Sabbath-type metal and late 70's Maiden. The best example might be "Goddess". The chorus catches your attention, but the layers of  NWOBHM metal draw you in. Or maybe it's the epic "Her Spectral Armies"?
CGCM Rock Radio Album Review: SPELLBOOK – Deadly Charms (Tom Cornell)
8 – WONDERLOVE – All of the Nightmares
🇺🇸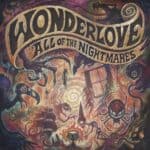 The most surprising album this year was All of the Nightmares. Not my usual cup of tea; it just kept getting better with every listen. Wonderlove is a patchwork composed of members from the prog band Perfect Beings (Jesse Nason and Dicki Fliszar), Rival Sons (Dave Beste), and the glue holding it all together, Chris Paul Overall on vocals and  Bryan McIntyre on guitars.
Sometimes the whole is greater than the sum of its parts, and when a band cobbles together an album with influences from Led Zeppelin to Alice In Chains, it just works. It's incredibly well written and credit goes to the duo of Overall and McIntyre for corralling the rest of the musicians busy with other bands.
CGCM Rock Radio Album Review: WONDERLOVE – All of the Nightmares (Sparky)
7 – MASSIVE WAGONS -Triggered
🇬🇧
Massive Wagons have been hard at work building its own brand of fun, wry, clever, relevant catchy, rock and roll for a while now, and they've hit their stride. Triggered! is a hard rock album full of punk rock energy that the world needs now.
Leading off the album with "Fuck the Haters" sets the tone with a takedown of the troll culture. They lay it out there, you might not like it but do you have to be an ass about it? It's great advice delivered in a hell of a catchy song. Check out the video featuring brutal social media comments about the band.
Even while keeping their fingers on the pulse of today's challenges, they can still bust out a fun and ridiculous song like "Skateboard". It's an absolute banger and demands to be played loud. Or check out the AOR and pop-punk mashup "Please Stay Calm".
CGCM Rock Radio Album Review: MASSIVE WAGONS – Triggered! (Sparky)
WEBSITE  / FACEBOOK  / INSTAGRAM
6 – SANHEDRIN – Lights On
🇺🇸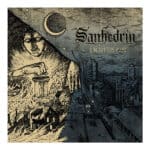 Released in March, the Brooklyn band Sanedrin's Lights On has been lights out since the moment I heard it. It's a brooding album steeped deeply in classic metal. Sanhedrin doesn't just sound like a significant metal band from the past; they embody metal and breathe new life into a legendary sound.
The single and accompanying video "Lost at Sea" just seeps classic metal. If you like that one, be sure to check out the pandemic-inspired lead track "Correction". It's angry as only a metal song can be. The beats carry the gothic "Code Blue". And yes, it's a perfect accompaniment to the TSOL classic of the same name.
WEBSITE / FACEBOOK / INSTAGRAM
5 – GUNSHINE – Gunshine
🇺🇸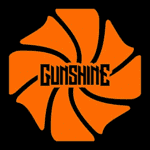 Gunshine rose from the swamps of Florida in 2022 with a crushing debut. They're clearly influenced by late 70s and 80s rock, a heavy dose of Van Halen, a bit of Faster Pussycat, a smidge of GnR, and a drop of Lynryrd Skynryd. Gunshine's eponymous album is the best debut of 2022.
I've heard a lot of comparisons of the Canadian band Deraps—who also released a fantastic debut this year—to Van Halen. While they certainly have the chops to stand up to the comparison, I get a bit more of the intangibles from Gunshine—the swing and swagger that made VH so mighty.
Take some time out of your day and check out Gunshine. Standouts include "Wall Said to Call", "Live Free, Get Wild", and "Something Real".
WEBSITE / FACEBOOK / INSTAGRAM
4 – KISSIN' DYNAMITE – Not The End Of The Road
🇩🇪
All year long, when I needed a shot of 80's style glam, sleaze, pop metal (whatever you want to call it), I kept coming back to Not the End of the Road. That's high praise with the slew of fantastic releases from the likes of Madhouse, Skid Row, Classless Act, Reckless Love, Hardcore Superstar, and the other album on this list by Gunshine.
Kissin' Dynamite fills their collection of loud, fun, upbeat rock and roll with songs that simply beg to be cranked loud. I dare you to resist the volume dial on anthems like "No One Dies a Virgin", "Yoko Ono", and "All For A Halleluja".
At its core, Not the End of the Road is a supremely positive album. On the buoyant single "Good Life" the band teamed up with Charlotte Wessels (Delain), Alea der Bescheidene (Saltatio Mortis), and Guernica Mancini (Thundermother) to raise money for Förderverein für krebskranke Kinder e.V., an organization that supports children with cancer. Tracks like "Defeat It" and "No One Dies a Virgin" remind us that while everyone deals with problems ("No one dies a virgin/in the very end life fucks us all"), you get to choose your attitude ("If you don't need it/Defeat it").
CGCM Rock Radio Album Review: KISSIN' DYNAMITE – Not the End of the Road (Tom Cornell)
Order "Not The End Of The Road" here: https://smarturl.it/NotTheEndOfTheRoad Gefördert von der Initiative Musik Kissin' Dynamite on tour: 20.01.2022 Memmingen – Kaminwerk 21.01.2022 Hannover – Capitol 22.01.2022 Bochum – Zeche https://www.eventim.de/artist/kissin-dynamite/ LYRICS: Not the end of the road A stroke beats down unstoppable Wildland fires lost control It's easier when
3 – GIRISH AND THE CHRONICLES – Hail To The Heroes

🇮🇳

I stand by every word I said in my February review, including:
Girish & The Chronicles are the best hard rock band on the planet right now. They are at their peak, embracing the sound and power of the golden age of 80s metal, evolving it into a metal monster.
Their high-energy Frontiers debut, Hail to the Heroes is a hard rock and metal feast. I've listened to this album more than any other in 2022.  They have a fantastic frontman in Girish Pradam. He can sing anything from Bon Scott to Sebastian Bach. But the rest of the band is just as tight.
Suraz Sun brings the guitar theatrics with juicy riffs and acrobatic solos. Nagen Nags' big beats start with the first track, "Primeval Desire" and get more furious with each song. Maybe the man most to thank for the epic sound of GATC is Yogesh Pradhan. He holds the band together with next-level bass playing, and he produced an album that sounds fantastic and rocks hard.
Yogesh Pradhan not only played bass but also plays the keyboards and handled the majority of the production.  He deserves big props for the overall sound on Hail To The Heroes. Check out the video for "Primeval Desire" and tell me that's not pure rock and roll.
CGCM Rock Radio Album Review: GIRISH AND THE CHRONICLES – Hail to the Heroes (Dave Wilks)
WEBSITE / FACEBOOK  / INSTAGRAM
2 – GOODBYE JUNE – See Where the Night Goes
🇺🇸
The trio from Nashville, Goodbye June, serves up an album of good-time rock and roll steeped in a brilliant mix of hard rock, blues, and even a bit of gospel. It's a powerful shot of pure Nashville hard rock.
I can't think of many better evangelists of the hard rock we know and love. In songs like "Step Aside" and "Three Chords", Goodbye June revels in the history of rock and roll. They're anthemic and feature masterful vocals and smooth guitar licks.
See Where the Night Goes is a fun record, chock full of party anthems like the title track and "Baby, I'm Back." The world needs more music like this, a bit over the top but full of energy. Goodbye June has the attitude of the Sunset Strip mixed with the blues rock of AC/DC.
WEBSITE / FACEBOOK / TWITTER / INSTAGRAM
1 – THE METAL BYRDS – Birdie Lane
🇺🇸
Each release from The Metal Byrds improves on the previous, and Birdie Lane is no exception. The Texas band takes a tour of rock and roll influence from the last 50 years, landing on everything from hard rock and power pop to metal, punk, and grunge.
Susan Birdie's vocals pair perfectly with Sly Rye Whisky's unmistakable sound. While clearly influenced by specific subgenres of rock, each track is uniquely The Metal Byrds.
My favourite songs on the album span the spectrum of their influences. They include the classic metal "Valley of the Dog" with Whisky's killer solo and great bass work from Mac Jacobs. "The Chase" is pure rock and roll joy. My only wish on this album is that they followed the melancholy AOR ballad "Good Harbour" with the alt-rock treat "End Note".  The two tracks flawlessly bookend each other as tales of love found and lost.
CGCM Rock Radio Album Review: THE METAL BYRDS – Birdie Lane (Dave Wilks)
WEBSITE / FACEBOOK / TWITTER / YOUTUBE / SPOTIFY /APPLE MUSIC
Read my other reviews here. Dave Wilks