Before I start my top 10 and opening chat I want to make readers aware that you can find the Collective List, as well as all our Best of 2021 content including contributors' individual lists, podcasts and radio DJ, shows here: CGCM's Best of 2021 (Year in Review).
BEST OF 2021
Tom Cornell 🏴󠁧󠁢󠁳󠁣󠁴󠁿
(Writer)
Well, 2021 was a bloody funny year which on the whole won't be missed! Personally, I was still struggling health-wise due to meds I am on causing side effects which curtailed me from doing as much writing as I would like to have done. However, there were plenty of great releases in both the albums I did review and ones I didn't. Each year trying to narrow things down to 10 is a bloody nightmare, and this year I have struggled as there were a good number of releases that were of equal quality and or albums that I kept going back to as they lifted my spirits.
I would like to start by doing some honourable mentions. All these are bloody great albums which I recommend if you haven't already checked them out. All of them on another week might have been in the 10. Alice Cooper's Detroit Stories was strong, which had some good humour running through it as he paid homage to where it all really began for him. Frost's Day And Age was quirky prog with major pop sensibilities introduced by a young girl who tells us to "enjoy yourselves… you scum!" With returning vocal refrains this was a combination of some very dark thoughts yet with hope running through it. Samantha Fish's Faster was a departure once again from previous albums, this time hinting at the rocky pop vibe of Lady Gaga etc. She even took the chance to have a fellow hometown artist on the album who happens to be a rapper, possibly scaring the shit out of the more straight-laced blues fans. It works and it works well. Some of the songs live will rip fans' faces off energy-wise. Nice. The new Dream Theater album A View From The Top Of The World is definitely the best since a certain drummer departed the band and the titled epic at the end is really good. Accept's Too Mean To Die was absolutely full of great riffs and songs and is I think their best since 2010 and matches their classic era output.
A special mention for David Minasian who released a compilation album which I have almost played to death, featuring folks from Camel and also ex-Genesis amongst others which adds to the beauty of it all. However, I wanted to stick to original full-length albums only. If I didn't then Random Dreams: Best Of would have topped my list as I bloody love it. So who did make the 10? Scroll down and see.
THE L.A. MAYBE 🇺🇸
Dirty Damn Tricks
The L.A Maybe released an outrageous banger of an album in Dirty Damn Tricks (Full Review HERE). With a mix of AC/DC, G 'N' R, Black Crowes and Lynyrd Skynyrd they made an almighty racket kicking up a storm. Singer Alvi Robinson was linked to the AC/DC job but he has that and more in his locker. His versatility is for all to hear on these 10 songs and over 40 minutes of music. From the opener " Mr. Danger" all the aforementioned AC/DC to the Extreme style funk of "Take Me Away", the Skynyrd vibe of "When I'm Gone" all the way to boogie-woogie closer "Up Next To You" this is a ride through folks 70s, 80s and 90s record or CD collections. It might not be the most original album ever but by Christ, it will get you up partying. I think that the band would consider a success.
CGCM album review by Tom Cornell HERE
BUY / WEBSITE / FACEBOOK / INSTAGRAM
[embedyt] https://www.youtube.com/watch?v=i9H8yRHvJE0[/embedyt]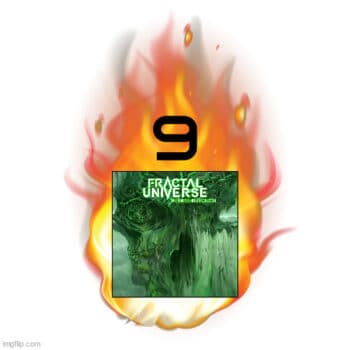 FRACTAL UNIVERSE 🇨🇵

The Impassable Horizon
This French progressive death metal outfit released this concept album which I didn't understand (this will be a recurring theme here). As I said in my review (HERE) it was above my 4 O levels but the music is so bloody good it didn't matter a jot. 12 songs and 57 minutes of musical excellence and heavy at times brutal riffs. This is more towards prog than their previous works and there are plenty of time shifts, mood swings and vocal styles to keep the attention fully. The use of saxophone on several of the songs like "A Clockwork Expectation" (a quirky number all round; see below for video) and "Black Sails Of Melancholia" really adds an extra layer to everything. The longest song "Godless Machinists" hits us with just about everything style-wise apart from a sax solo. Fans of Opeth (both eras), Ihsahn and King Crimson should find this a treat. A terrific listen.
CGCM album review by Tom Cornell HERE
BUY / WEBSITE / FACEBOOK / BANDCAMP
[embedyt] https://www.youtube.com/watch?v=aBqQMCazAVw[/embedyt]
THUNDER 🇬🇧
All The Right Noises
13 studio albums in and Thunder maintain the high-quality output. One of the few bands that most of the band were on the first album back in 1990 over 30 years ago. Danny Bowes' voice is still in great shape and the band are grooving along nicely. There is loads of swagger here along with some thought-provoking social commentary which they have done since their second album. With songs about a certain ex-President and the Brexit divide they ask us to look at ourselves and how we got here, what part did we all play in this shit! From all-out rockers like "Last One Turn Out The Lights" and The Faces-inspired "You're Gonna Be My Girl" to ballads like "St George's Day" the songs are strong and varied. They are still a great live band and with these songs, they have even more great tracks to choose from. How to grow old(er) with panache!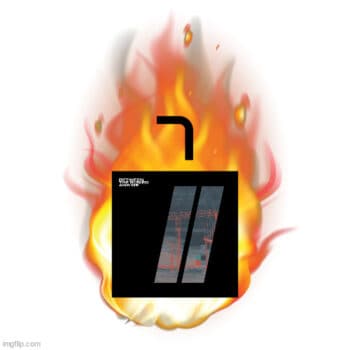 BETWEEN THE BURIED AND ME 🇺🇸
Colors II
Their 10th studio album and a follow-up to their 2007 album called Colors. It is conceptual in a way as it looks at humanity in the modern world and the effects we are having on the planet. Yes, it is a very socially conscious album and deals with such things as climate change. It is a long album around an hour and 20 so takes a bit of digesting but it is truly worth it. The more you listen the more you get out of it. As always there is a blend of brutality with growled vocals and the mellow where the vocals are clean and beautiful. One thing the band always likes to do is throw in curveballs with not only weird time signatures but strange musical styles coming in and taking over. For instance "Revolution In Limbo" goes from pounding and aggressive death metal to the sumptuous chorus of "over and over" to what sounds like Samba-style music or something. It takes you off guard, confuses the shit out of you then twists itself to extreme metal again. "Fix The Error" even goes rather funky before heading into a jazzy drum break. Parts of it are 80s synth-pop as well. They love to bamboozle but man it is such fun to go on the ride with them. This is an excellent and worthy follow-up to their classic 2007 album!
BUY: Amazon Canada / USA / UK / WEBSITE / FACEBOOK
[embedyt] https://www.youtube.com/watch?v=445arWTPkxo[/embedyt]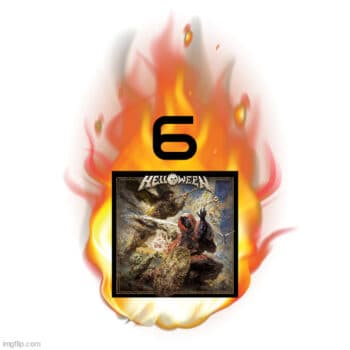 HELLOWEEN 🇩🇪
Helloween
What an absolute treat to find all the members of the Pumpkins United tour got on so damn well that they could get this far as releasing a belter of an album that features all 3 singers, 3 guitarists, bassist and drummer. The classic lineup from The Keepers albums apart from of course Ingo who is no longer with us along with the singer and guitarist from later years are obviously having a ball going by this self-titled opus. It is like they had never been away. Classic and power metal with humour via some of the bonkers and confusing lyrics which fans bloody love. There are plenty of singalong anthems on show, songs like "Indestructible", the Judas Priest-inspired "Mass Pollution" and "Fear Of The Fallen" to name but 3. Of course, the big selling point is the epic. On this occasion we have "Skyfall" and it is a fantastic journey with the band making wonderful use of all 3 singers and a shit load of guitar solos thrown in. If you are not smiling throughout then I suggest you should see a doctor! Joyous fun. (Full review of the album HERE)
CGCM album review by Tom Cornell HERE
BUY: Amazon Canada/USA/UK / WEBSITE / FACEBOOK
[embedyt] https://www.youtube.com/watch?v=m5rUkqvCDVY[/embedyt]
WORMWOOD 🇸🇪
Arkivet
This Swedish progressive death metal band continues to impress with their mix of black metal, pagan folk and progressive melodies and guitar work. They nicely mix together the brutal heaviness of say Bathory with the lush guitar tones of Pink Floyd. Their last album looked back at history (Nattarvet) but this one is about the here and now. The death of the planet via human stupidity and greed. I did say in my full review (see HERE ) that it was "bleak and disturbing yet musically having an air of hope" and I stand by that assessment. They also have some Celtic vibes at times hinting at Thin Lizzy and even more so Big Country which adds to the soundscapes very nicely. The album came out in August and since then we have had the Cop 26 Summit which sadly did little to alter the course suggesting that the despairing words "Man deserves to die" is correct. In "The Gentle Touch Of Humanity" they emit both horror and beauty via the words counterpointed by a haunting melody. Powerful and moving stuff all round!
CGCM album review by Tom Cornell HERE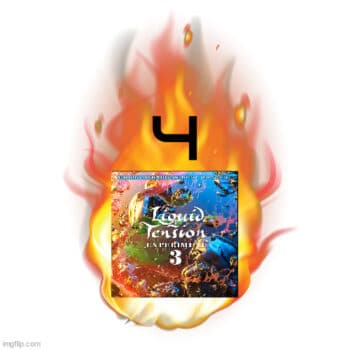 LIQUID TENSION EXPERIMENT 🇺🇸
3
Well, it was a hell of a long wait, over 20 years and now we have the third album from Liquid Tension Experiment comprised of course of 2 members of Dream Theater, 1 ex-member of DT  and someone from both King Crimson and Peter Gabriel's band. They are from DT guitarist John Petrucci, keyboardist Jordan Rudess, ex-DT but of Transatlantic, Sons Of Apollo and a 100 other bands (it seems) Mike Portnoy along with bassist Tony Levin who has also played on loads of folks records! It is what you might expect, a musical roller coaster ride where 4 incredible players show off their skills. The good news is that it isn't just fretboard wanking, they have tunes, yes, really TUNES! There is plenty riffage for the more metal inclined listeners checking in along with some more challenging moments like the drum and bass workout called "Chris And Kevin's Amazing Odyssey" which continues the "story". "Chris and Kevin" relates to Mike and Tony who when promoting the first album came across a photographer that kept calling them by those names, they were amused and decided to make music as those characters. It isn't an easy listen being very jazz-oriented. Their version of Gershwin's "Rhapsody In Blue" is fantastic and is almost is worth the admission price. Truly stunning musicianship all round. It is the best one by them yet in my humble opinion.
BUY: Amazon Canada/USA/UK // FACEBOOK
[embedyt] https://www.youtube.com/watch?v=jWP4JLUxiqY[/embedyt]
DVNE 🏴󠁧󠁢󠁳󠁣󠁴󠁿
Etemen Aenka
Coming in a very strong top 3 at 3 are this now award-winning band (the Scottish Alternative Music Awards bestowed the honour of "Best Metal Artist In Scotland") who released this absolute epic sci-fi album based around another universe. Now like a previous top 10 album I didn't understand this one either, however it didn't affect my absolute love of the journey of the story musically. Best listened to with headphones on, relaxed back whilst letting yourself be immersed in what the band have created. There are plenty of viciously heavy grooves running throughout, yet to counterpoint those there are also plenty of melodic sections creating some wonderful atmospheres. In my full review (HERE) I mentioned influences running through from Mastodon to Floyd with moments of even Tangerine Dream, which does give a guide to the quality of the album. I have played this constantly since it came out and find something new every time. Worthy winners of that award then!
CGCM album review by Tom Cornell HERE
BUY: Amazon Canada/USA/UK / FACEBOOK
[embedyt] https://www.youtube.com/watch?v=jU_hAngXMbY[/embedyt]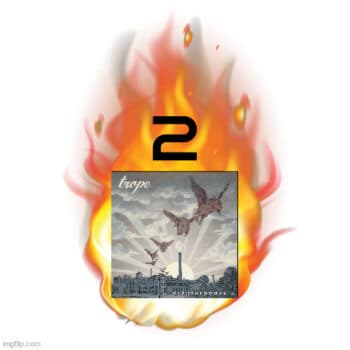 TROPE 🇺🇸
Eleutheromania
Just missing out on the top spot in no more comes the debut album from this band from Hollywood USA featuring guitarist/producer Dave Thompson and singer Diana Studenberg. A lovely mix of progressive metal and 90s alternative music. The first name that comes to mind listening to it is Tool (although Trope doesn't play the length of songs they do) but there are also moments of Soundgarden, Audioslave and mid-80s (especially) King Crimson. They mix these styles with great aplomb and honesty creating an album that is both atmospheric and powerful. From the hypnotic "Plateau" with its hauntingly beautiful chorus to the heavier more rhythmically dynamic "Pareidolia" which features some delightful intricate drumming to the Celtic-inspired "Season's Change", they create a vibe that is intense yet alluring throughout.  They even manage to do a cover of the old Tears For Fears song "Shout" which is interesting, different from the original and the famous cover by Disturbed a good few years ago which I applaud them for. To read my full thoughts on this brilliant first album the review can be found HERE.
CGCM album review by Tom Cornell HERE
BUY PHYSICAL / BUY DOWNLOAD via Amazon / WEBSITE / FACEBOOK
[embedyt] https://www.youtube.com/watch?v=KEVM-fBlWtU[/embedyt]
ROBERT JON & THE WRECK 🇺🇸
Shine A Light On Me Brother
This year was the first time I had heard of this band and they have been going since around 2015 and this is their sixth album. The band are from Southern California and are led by the man known as Robert Jon (Burrison) and they play blues-inspired Southern music with a gospel feel at times rock n roll. It is good time music, uplifting throughout. Even the mellow tracks or ballads inspire positive vibes. As I noted at the start 2021 was about as shit as 2020 and this album (and this band) made me feel a new joy in life every time I listened to them. They truly lift the soul to another more groovy level where there is brotherhood and love. Yes, I am an old hippy! From the hope-filled album title song with its honky-tonk piano through the grooving "Movin'" to the crazy danceable "Radio" which I could imagine hearing on a sunny day at a BBQ with friends, having a beer and dancing like a loon, they "shine a light" to those dealing with a pretty dark world at the moment. I applaud the hell out of them for doing so. Even the mellower songs have a sense of hope, "Chicago" for instance uses horns to get that good time vibe going.  Rumour has it they sound even more fun live and if so then their gigs must be an absolute blast. Believe me when I say this is a blast. Wonderful, uplifting and joyous this album is the one I have listened to the most since it came out. A fitting number 1 album in my view!
So in closing, I thank you for taking the time to check out my own personal top 10 of 2021 and it is my hope that in so doing each one of you kind folks might at least find 1 album that will interest or excite you that you hadn't heard before and that maybe that will result in any of these wonderful musicians and bands gaining another fan or 10. If you read about a band that you think a mate might like please let them know so they can check them out. Bands are in need of our support still whilst this damned Covid is still being a pain in the arse.  Hopefully next year it will be more under control and bands have more freedom to move around touring and making a living. Rock and metal (along with prog and blues) is alive and well still despite the naysayers. Support it as best you can. Again thank you, and please everyone take care, stay healthy and rocking!
Tom Cornell
Find more of my album reviews here: AUTHOR LINK
Don't forget to take a look at all our Best of 2021 content including the COLLECTIVE BEST ALBUMS LIST (culminated via the ratings in the individual lists), all our contributors' individual best lists, podcast episodes and Radio DJ shows CGCM's Best of 2021 (Year in Review)