You can find the Collective List as well as all our Best of 2021 content including contributors' individual lists, podcasts and radio DJ shows here: CGCM's Best of 2021 (Year in Review)
BEST OF 2021
BRIAN RONALD

🇨🇦
(Photographer/Contributor)
2021 was yet another very strong year for CD releases. The difference this year from a lot of the previous years was there was no clear-cut early winner. Usually, there are a couple of early releases that set the tone and it's up to the rest of the year's albums to de-throne them. This year as I pre-write this intro, I am still not sure who my Top CD of 2021 is.
After replaying most contenders here is my final list, enjoy!
W.E.T. 🇸🇪
Retransmission
Both Jeff Scott Soto and Eclipse had decent 2021 releases but I think the 5th installment from W.E.T. combines the best of these three. Great rocking tunes, superb melodic melodies and perfect ballads kept this one in my regular rotation all year long. Outstanding tracks are the opening rocker "Big Boys Don't Cry" right through "How Far To Babylon" to "How Do I Know". Not a bad song here.
Subscribe To Our Channel: http://radi.al/SubscribeFrontiers | From the album RETRANSMISSION. Buy or Stream: https://orcd.co/retransmission | Watch more W.E.T…
WICKED SMILE 🇦🇺
Wait For The Night

Ok, I get it, last year's EP was just a tease and a damn good one. Now a full-length album including the brilliance of the EP. These guys can rock. It didn't take much for this one to grow on me and was responsible for knocking some heavy hitters out of my Top 10. Love "Killer At Large", "Last Goodbye", "Love's Got A Hold On Me" and of course "Stronger" from the EP. In fact, each listen gets "stronger".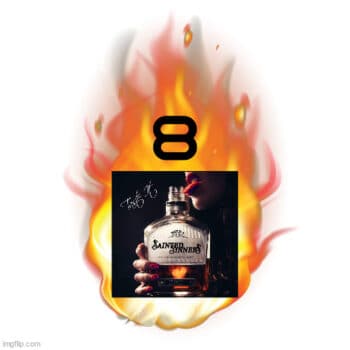 SAINTED SINNERS 🇩🇪
Taste It

Another entry from a band where the singer is from one of my favourite bands (see above). In this case Jack Meille from Tygers of Pan Tang. This is the fourth entry and 2nd for Jack who took over for David Reece. A great album that captures it all – rocking tunes, great vocals and background harmonies and for those keeping score – a great ballad. Not to mention a great cover of REM's "Losing My Religion" that reminds me of Saxon's "Ride Like The Wind" – a pop song with a rock and roll twist.
BUY / WEBSITE / FACEBOOK / INSTAGRAM
[embedyt] https://www.youtube.com/watch?v=VMp-qeJOYWo[/embedyt]
TODD MICHAEL HALL 🇺🇸
Sonic Healing

The current lead singer of Riot V surprised me with his release of a solo album, and man it's a beauty. Another CD that climbed the ranks after each listen. I always find when a singer of a popular band does a solo album it just sounds like another release from his band but it is not the case here. Todd really branches out with his chameleon voice and shows just how great he can sing. You can tell it's a real passion of love. Stand-out tracks are "Let Loose Tonight", "Like No Other", "Not With A Sword" and my fave "Running After You" which by the way could fit on any 70's Rush album and nobody would notice.
BUY / WEBSITE / FACEBOOK / INSTAGRAM
[embedyt] https://www.youtube.com/watch?v=uVhtL7xcSp4[/embedyt]
MADHOUSE 🇦🇹
Bad Habits

First, let's get one thing clear when I hear the term "Sleaze Rock", Madhouse checks off all the boxes. This IS sleaze at its best. Pure heavy 80's sleaze! Not to mention straight-out guitar-driven rock and roll. The Austrian's sophomore release is a real gem! "Sick Of It All" is a definite candidate for song of the year with "Atomic Love" close behind!
WEBSITE / FACEBOOK / INSTAGRAM
[embedyt] https://www.youtube.com/watch?v=TwjQE_f_3HA[/embedyt]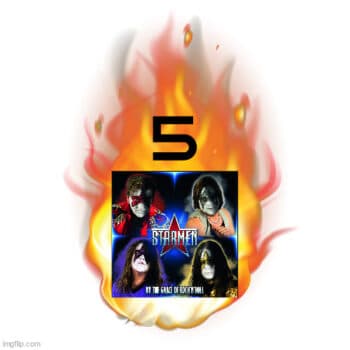 STARMEN 🇸🇪
By The Grace Of Rock n Roll

If Kiss were ever to release another album, I can only hope it sounds as amazing as this – that is of course if Paul Stanley sings every song. Let's be honest, I am not a fan of the make-up and gimmicks but I am sure it adds to the live performance but the music really does speak for itself. Let's also not forget about the incredible guitar work by Kristian Hermanson. Stand-out tracks are "Kisses of the Enemy", "Bad Habit", "Peoples Parade" and the spectacular opening track "Shining Star".
BUY / WEBSITE / FACEBOOK / INSTAGRAM
[embedyt] https://www.youtube.com/watch?v=Kdu3HncOMQY[/embedyt]
DURBIN 🇺🇸
The Beast Awakens

Speaking of heavy, James Durbin has brought it to the table with this release! It's hard not to notice his love and tribute to Ronnie James Dio both in sound and lyrics but man, it sounds so great! I loved him on American Idol and actually loved him on the Quiet Riot album. Favourite songs are "Into The Flames" and "Evil Eye". Oh, and how can you go wrong with Mike Vanderhule of Y&T on drums?
BUY / WEBSITE / FACEBOOK / INSTAGRAM
[embedyt] https://www.youtube.com/watch?v=ogAbVdLDDlY[/embedyt]
WALK THE WALK 🇺🇸
Walk The Walk
A newcomer to me, these guys really grew on me as the year went on, from outside the top 10 to slowly climbing all the way to 3 with each listen. All I can say is intensity. The powerhouse vocals and pounding guitars constantly hammering those tunes into your head with background harmonies and choruses reminiscent of the good ole Bon Jovi days. Feature tracks are "Two Miles To Go" (unreal riff), "Movin' On" and my fave "Never Been to California" (as I can relate to the lyrics). Great debut!
ACCEPT 🇩🇪
Too Mean To Die
The true definition of metal, Wolf and the gang are back with a bang. Their best all-around album since 2010's Blood of Nations. I am not sure if any album can compete with the opening one-two punch of "Zombie Apocalypse" and "Too Mean To Die". All the songs are great with a variety of past sounds. "Overnight Sensation" could be on Metal Heart, "Sucks To Be You" could be on Death Row and "The Undertaker" on Eat the Heat. Still one of the best bands that have not slipped a bit with numerous line-up changes.
CGCM album review by Tom Cornell HERE
BUY / WEBSITE / FACEBOOK / INSTAGRAM
[embedyt] https://www.youtube.com/watch?v=DQy6npwdwsY[/embedyt]
THE TREATMENT 🇬🇧
Waiting For Good Luck

It was a tough call between these guys and Accept but I just felt I "smiled" more listening to this. You know that smile you get when the music just feels sooo good! These AC/DC clones have come a long way and have created an identity of their own. Songs of the year like "Devil in the Detail", "Tough Kid" and "Wrong Way" really prove their diversity. Yet they like to keep their AC/DC roots in songs like "Hold Fire" and "Rat Race". All killer – no filler!
The Honourable Ten in No Order
With over 400 CDs sampled it's hard not to give credit to a few other fantastic releases.
Hitten – Triumph Tragedy
Ronnie Atkins – One Shot
Levera – Levera
Spektra – Overload
Second Reign – Gravity
Plush – Plush
Trucker Diablo – Tail End Of A Hurricane
Supernova Plasmatics – Now Or Never
Life Of A Hero – Letting Go
Dymond Bright – Rebirth Of Light
Too Good Not to Be Missed!!
Brian Ronald 12/22/2021
Find more of my album reviews here: AUTHOR LINK
Don't forget to take a look at all our Best of 2021 content including the COLLECTIVE BEST ALBUMS LIST (culminated via the ratings in the individual lists), all our contributors' individual best lists, podcast episodes and Radio DJ shows CGCM's Best of 2021 (Year in Review)