This year CGCM decided to include EP (previously they were excluded from Top Ten Albums). Live albums and re-records were still disqualified, new music only for Best of Year. We also instigated a (highly complex🤣 – 1 point for 10th place through to 10 points for 1st place) rating system throughout all individual lists to culminate a Collective Best of 2020.
You can find the Collective List as well as all our Best of 2020 content including contributors' individual lists, podcasts and radio DJ shows here: CGCM's Best of 2020 (Year in Review)
BEST OF 2020 – Wallygator (Radio DJ/Podcast Co-Host/Writer)

🇨🇦

Happy New Beer! 2020 is officially over and I can hear the collective screaming "thank god!". I am sure it will be looked back upon for many things. Safe to say, it was by far the most challenging year in my fifty years on this planet. The entire year seemed to be consumed with complete negativity. Global pandemics, political unrest, massive toilet paper shortages and of course Cardi B's WAP. All of that said, 2020 did have a few bright spots and the June 1st launch of CGCM Radio sits pretty high on that list.

The timing of the launch of CGCM Radio actually resulted in some varied listening habits of new material. Early in 2020, we had nothing but time to actively listen to new music. Then with the launch of the radio station, our "free time" was totally obliterated with learning how to run the radio station and all that goes with it. So the last couple of months of 2020 was literally spent trying to catch up with the backlog of albums sitting on our plates.

My plan was to put pen to paper and compile my annual Top 10 Albums article bright and early on New Years Day. The mega-hangover that awaited me on January 1st definitely delayed this by a day. So without further delay, here are my personal Top 10 Albums of the year 2020.
Let the games begin…
#10 – ANNIHILATOR – Ballistic, Sadistic 🇨🇦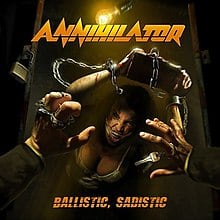 I was first introduced to this Canadian thrash band back around 1990. They immediately knocked my dick in the dirt with their brand of melodic thrash and a Canadian sense of humour (see "Kraf Dinner"). On January 24th Annihilator released their 17th studio album Ballistic, Sadistic.
A double-barreled shotgun blast of high octane thrash! This album fueled many of the extended dog walks during the pandemic lockdown. If you aren't banging your head after the first three songs, you need medical attention. "Armed To The Teeth", "Attitude" and "Psycho Ward" might be the strongest 1-2-3 punch on my list this year.
BUY: AMAZON.ca / AMAZON.com / AMAZON.co.uk
#9 – IT'sALIE – Lillith 🇮🇪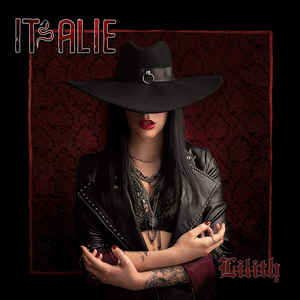 Lillith from the band IT'sALIE was a last-minute shoehorn addition into my top 10. Although it was released on September 20th, I don't think I heard it until late November. I was hooked right from the start, solid melodic rock, tons of hooks and a killer vocalist. By the third tune, I was texting the Meister to check this shit out!
The album is completely filled with one-word song titles. "Fire", "Silver" "Wind" and even a metallized cover of Heart's "Barracuda". I keep going back to this record and think the only song title they missed out on would be "Killer". They are a new rock band from Venice, Italy featuring vocalist Giorgia Colleluori (Sinner) and guitarist Raffaelo Indri (Elvenking). I highly recommend checking this one out!
BUY: AMAZON.com / AMAZON.co.uk
#8 – STEELCITY – Mach II 🇺🇸
The sophomore release from SteelCity tee's up another home run. Do you like melodic rock with crunchy shredding guitars? Stupid question if you listen to CGCM Radio I know. Guitarist Mike Flores has recruited a new crew, wrote another batch of awesome tunes and on March 20th Mach II was released.
Although I enjoyed the lead-off single "Hearts On Fire", it was the second track "Dead Men" that totally grabbed me and secured the spot in my top 10. I know that one song doesn't make a great album. No worries. "Dead Men" just set the hook. There is a ton of great music found here. "Give It Back", "Wasted Time" and possibly one of the best songs of 2020, "A Little Love" drives this album to number 8!
CGCM Album Review: Steelcity – Mach II by Maddog
BUY: AMAZON.ca / AMAZON.com / AMAZON.co.uk
#7 – TESTAMENT – Titans Of Creation 🇺🇸
I have said it many times. If the Big 4 (Metallica, Megadeth, Anthrax and Slayer) were to be the Big 5, Testament has my vote! Actually, if it were up to me I would remove one of the 4 to make room for Testament. For me, their albums are far more consistent than some within that group.
Chuck Billy and the boys are on a roll, three of their last 4 albums have made my annual top 10 lists. Titans Of Creation is absolutely one of their best. It absolutely contains my favourite Testament song of all time, the absolutely perfect "Dream Deceiver". If you need a great 2020 thrash fix, put this and Annihilator into your playlist. You're welcome.
CGCM Album Review: Testament – Titans of Creation by Steve English
BUY: AMAZON.ca / AMAZON.com / AMAZON.co.uk
#6 – MASSIVE WAGONS – House Of Noise 🇬🇧
I guess you could say I was late to the party with regards to the band Massive Wagons. I can't say I had ever heard the name until a couple of years ago when we had Mr. Paul Stanley on the podcast. Now I am sure the Meister may have introduced me earlier but truth be told I rarely am listening when he rambles on and on.
I became a total fan of this band after hearing their song "Billy Balloonhead" from 2018's Full Nelson album. So this is actually the first Massive Wagons album that I was actually waiting for release. They did not disappoint, House Of Noise continues all of the fun melodic rock goodness that they are known for. "House Of Noise", "Bangin' In Your Stereo" and "Hallescrewya" are just three examples of the party within. Released July 17th it became a great distraction in this challenging year. Something about the vocal hooks that this band delivers makes me happy. Something we needed in 2020.
CGCM Album review House of Noise by Coxy
BUY : AMAZON.ca / AMAZON.com / AMAZON.co.uk
#5 – AC/DC – PWR/UP 🇦🇺
Absolutely the two biggest musical surprises for me in 2020 were AC/DC's PWR/UP album. The first surprise was that the album was actually released! We had heard various rumours of the band recording but when the official teasers started to appear I was taken aback. It was a complete throwback of "hype" marketing harkening back to the eighties. Using hype and anticipation in today's "everything right now" world was refreshing and fun. I was actually excited to hear this album.
AC/DC is just what the Dr. Ordered…
I love AC/DC. They are one of the greatest rock bands of all time. If you disagree then you have never seen them live. They have released a number of great albums and set the bar for a perfect rock record when they released Back In Black. To be completely honest with myself they have never delivered anything close to something that strong since. This brings me to the second surprise regarding this album.
Upon my first listen to PWR/UP, I publicly stated that I thought it was better than Rock or Bust but not as good as 2008's Black Ice (an album I really loved). Then I lived with the album a little longer and the hooks came out slowly but consistently. Every listen it seemed to get better and better. I read a review somewhere and they stated it was their best since Razor's Edge and that got me thinking. Razor's Edge had a couple of amazing songs but I don't often revisit that album all too often beyond that. That's when it hit me hard. This might just be their best album since Back In Black! I am beyond surprised how much I love this album.
"Demon Fire", "Through The Mists Of Time" and "Kick You When Your Down" give you a taste of AC/DC here in 2020. Crank it up!!!
CGCM Album review AC/DC – Power Up by Sparky

BUY: AMAZON.ca / AMAZON.com / AMAZON.co.uk
#4 – LILIAC – Queen Of Hearts 🇺🇸
This album is a hot spot with me. I first heard of this band a few years ago when someone posted up one of their cover songs on youtube. They blew me away, how good these young musicians were and that they seemed to truly love classic rock and metal. I started to keep an eye on this "family" band that some have referred to as the Partridge Family of heavy metal.
In 2019 when we were still allowed to go to live shows I got to bear witness to Liliac live. I couldn't believe the chops from this incredibly talented, incredibly young band of siblings. The show was amazing but as I watched lead vocalist Melody, I couldn't shake the strangest feeling. Her vocals, tone, inflections and even her movements onstage were eerily reminiscent of Ronnie James Dio! It was damn right spooky. That live show was mainly comprised of cover tunes as the band were still in the writing recording process of what was to become their first full-length original album, The Queen Of Hearts.
They Will Kick Your Ass…
Released October 30th just in time for Halloween, Queen of Hearts opens with the track "Nothing" and once again the Dio comparison comes rushing in. It's no wonder why I love this band. "Crazy Nights" (not the Kiss song) is absolutely my favourite track, the descending vocal part in the chorus is instant goosebumps. This album is pure fun and watching these kids delivering 70's tinged metal so convincingly is absolutely heartwarming. There is hope for the future!
I mentioned that this album is a bit of a hot spot for me. I am astounded that more people haven't picked up on this record yet. Until then I will be screaming loudly the praises of this great band. Liliac are no joke, no novelty, they will absolutely kick your ass!
BUY: AMAZON.com / AMAZON.co.uk
#3 – PHIL CAMPBELL AND THE BASTARD SONS – We're The Bastards 🇬🇧
This record hit my radar pretty late in the game. Released November 12th, this was in that aforementioned big pile of albums that I raced to listen to in prep for this top 10 task. This totally knocked my dick in the dirt on first listen and they continually climbed higher and higher with each listen.
Admittedly their debut album from 2018 missed my radar so I will be backtracking to give that some listening time. We're The Bastards is an absolute joy of a record. It has all the energy, fun and rock and roll sensibility of Motorhead but with more melody courtesy of vocalist Neil Star. The bass tone is pure Rickenbacker and is so thick and tasty. The songs are incredibly melodic and far more radio-friendly than I expected. "We're The Bastards", "Animals" and "Lie To Me" highlight this album. It must be so rewarding rocking out with your kids and putting out such killer material at this stage of Phil's career. Long live Rock n Roll!
CGCM Album Review: Phil Campbell and the Bastard Sons – We're the Bastards by Tom Cornell
BUY: AMAZON.ca / AMAZON.com / AMAZON.co.uk
#2 – BLACK SWAN – Shake The World 🇺🇸
Supergroup projects have become part of today's musical landscape. Sometimes they work and other times they are just a big disaster. This one did catch my interest when I heard the lineup. Matt Starr (Mr. Big) on drums, Jeff Pilson (Dokken) on bass, Reb Beach (Winger) on guitar and Robin McAuley (MSG) on vocals. On paper, this could be amazing but the proof would be in the listening.
Shake The World went above and beyond all my expectations. From the opening riff of "Big Disaster" McAuley takes the reigns and lifts this Black Swan higher and higher. It should be noted that McAuley's work on the 1987 McAuley Schenker Group's Perfect Timing ranks as one of my all-time favourite albums of all time. He hasn't lost his touch in 33 years, the vocals here are outstanding. "Shake The World", "Johnny Came Marching Home", oh hell just listen to the whole damn record here. The chemistry of this band is absolutely killer!
Surprisingly, I recently read that the riffs that eventually comprised the songs on this record were actually rejected as ideas for Winger. This prompts the question, "What the hell is wrong with Kip Winger?". Shake The World is outstanding!
BUY: AMAZON.ca / AMAZON.com / AMAZON.co.uk
And the winner is…
#1 – STORM FORCE – Age Of Fear 🇨🇦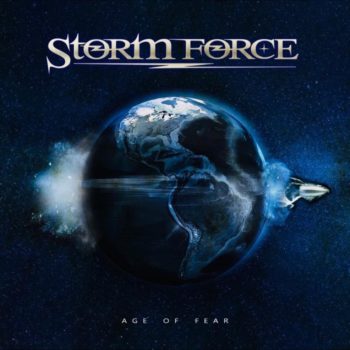 It's the Age Of Fear! In so many ways the title of this album is absolutely perfect in 2020. Another early release, I knew for sure and told many that this would be a contender for Album of the Year! It's only real competition came from Black Swan as those two albums jockeyed back and forth for the number one spot.
In case you haven't been paying attention Storm Force is a new band with a familiar name hailing from Niagara Falls, Canada. That familiar name is none other than Greg Fraser (Brighton Rock, Fraze Gang) on guitar and he is joined by a new cast of characters; vocalist Patrick Gagliardi, bassist Mike Berardelli and drummer Brian Hamilton.
Age Of Fear is an incredible slab of melodic hard rock that fits seamlessly comfortable alongside Brighton Rock's last album, 1991's Love Machine. The album explodes with the infectious "Because Of You" a high-energy opener. Title track "Age Of Fear" plays fortune teller and describes the year we were about to experience. From there a haunting duet as Patrick is joined on vocals by Serena Pryne for "Breathe". The album is a perfect blend of dirty high octane rockers, a couple of killer mid-tempo tunes and a pair of beautiful ballads. Released January 25th it was the gift that kept on giving in 2020. Amazing considering this band has yet to actually play a single live show. Hopefully, 2021 rectifies that situation and I can experience this now number one album LIVE!
CGCM Album review Storm Force – Age of Fear by Wallygator
BUY: AMAZON.ca /  AMAZON.com / AMAZON.co.uk
Furthermore, check out all my reviews: Wallygator
"Wallygator" Norton
Email Me at: Wallygator
Don't forget to take a look at all our Best of 2020 content including the COLLECTIVE BEST ALBUMS LIST (culminated via the ratings in the individual lists), all our contributors' individual best lists, podcast episodes and Radio DJ shows CGCM's Best of 2020 (Year in Review)