Welcome to the CGCM Podcast/Website. We are a group of music passionate folks from around the world. Although we began in Canada with only the podcast co-hosts, we now realize an entire team of staff from Canada, UK, USA and Sweden! Follow us at our website and/or social media for all our podcasts, album/concert reviews, interviews, photo galleries and more!
Check out all CGCMs BEST OF 2019 lists from each individual contributor. Enjoy listening to the Best of 2019 podcasts, featuring a ton of the music and hopefully you found some things that maybe you missed throughout the year. Feel free to share the lists and/or podcasts around and let us know what you were rocking to in 2019.
Keep an eye on our Upcoming Release page for all the info on the hottest releases throughout 2020. Every article we post has Amazon links (if available) so you can easily buy the album and support the artists. Here's to 2020 🥂
BEST OF 2019 – Tom Cornell (Writer)

 🏴󠁧󠁢󠁳󠁣󠁴󠁿

Every year around this time we as writers are asked to supply our top 10 albums of the year. Every December we all moan and groan as to how in the name of Hell we can cut it down due to how many releases that have excited us! 2019 is no different. I eventually got down to a top 20, then it was deciding which of those made the 10. My remit for making it were albums which I have constantly gone back to over the year and ones that I know that I will still be listening to in the years to come. They had to have stickability. To decide which number each should come in was also a bloody nightmare! They can be interchangeable depending on my mood as there is a mix of styles in the top 10. So eyes down for a full house… or something!
#10: Endolith – Chicxulub: The Fossil Record

 🇳🇴
Battling off a couple of other bands and winning their way into the 10 are Norwegian outfit Endolith. The first thing I noticed about them was their wonderful use of strings. A lot of metal bands have done similar, but I was impressed by the way they were used. They were not a fill or background noise, they were or are utterly integral to the sound. With them recording the strings first it meant that they built around them rather than the other way around which is mostly the norm. The melodies are good and the riffs are monstrous. Intelligent and heavy with hints of artists like Between The Buried And Me, Devin Townsend and Dimmu Borgir this impressed greatly right at the very start of the year. It is still doing so. Great work.
OFFICIAL WEBSITE / FACEBOOK / BUY: AMAZON.com / AMAZON.co.uk
[embedyt] https://www.youtube.com/watch?v=8wdxdSn-sbY[/embedyt]
#09: Hannah Wicklund & The Steppin' Stones – Self Titled

 🇺🇸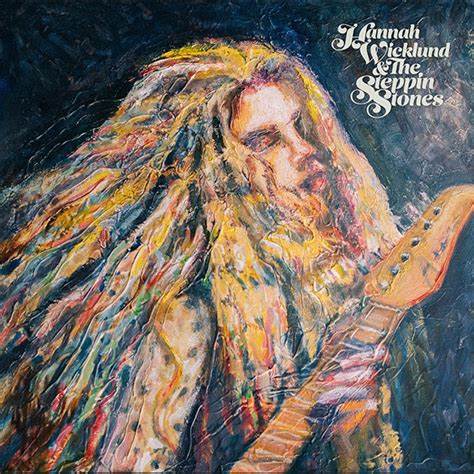 This one was a grower. On first listen I thought it was decent. Second time I noticed a few songs that were getting to me. Both "Looking Glass" and "Strawberry Moon" started to captivate me. Soulful and melodic with some fine guitar work and a voice that is like honey. She also showed she could rock out as shown in songs like the funk-fuelled "Bomb Through The Breeze" and "Too Close To You". For a debut album, this is quite an achievement. A young lass that I said in the review has "a hell of a career ahead of her". Still miffed she didn't play Scotland on her last tour! However, the album is terrific and anyone who loves blues rock with plenty of soul will not be disappointed.
OFFICIAL WEBSITE / FACEBOOK / BUY: AMAZON.com / AMAZON.co.uk
[embedyt] https://www.youtube.com/watch?v=EfMlZoRWwgc[/embedyt]
#08: Wilderun – Veil Of Imagination

 🇺🇸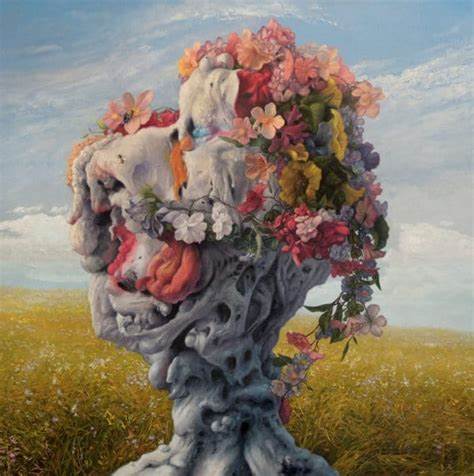 This was a band I read about in Prog Magazine. I went and checked them out. I have been playing the album regularly since. A 5 piece from Boston USA, this is their third album and what a thing of beauty it is. A mix of early 70s Genesis and Opeth. There is folk sections, orchestral, choral, musical theatre (it works) and full-on metal assault. Sometimes all in the one song! Opener "The Unimaginable Zero Summer" is 14 minutes of bliss. The rest of the album doesn't disappoint in any way. Vocally at times in both heavy and clean vocals Evan Anderson there are similarities to Mikael Akerfeldt but they are no clones. Anyone who loves well crafted progressive music will definitely dig this album!
OFFICIAL WEBSITE (Bandcamp)  / FACEBOOK / BUY: AMAZON.com / AMAZON.co.uk
[embedyt] https://www.youtube.com/watch?v=_dQdTAxStL4[/embedyt]
#07: The New Roses – Nothing But Wild

 🇩🇪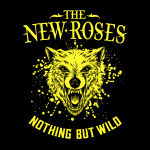 This German band released an album that would have been huge in the 1980s. With influences AC/DC, Foreigner, Tom Petty and Y&T amongst many others this is just great rock 'n' roll music. With a hint of Americana thrown in they manage to take those influences and make something that is varied and uniquely them. They are blessed with a first-class singer in Tommy Rough whose voice helps raise their material up another level. With "Unknown Territory" being for me the pick of the songs. Live it should kill. Bring on the tour 2020!
OFFICIAL WEBSITE / FACEBOOK / BUY: AMAZON.ca / AMAZON.com / AMAZON.co.uk
[embedyt] https://www.youtube.com/watch?v=yAc_UE6KU9s[/embedyt]
#06: Moonstruck – Web Of Deception 🇳🇱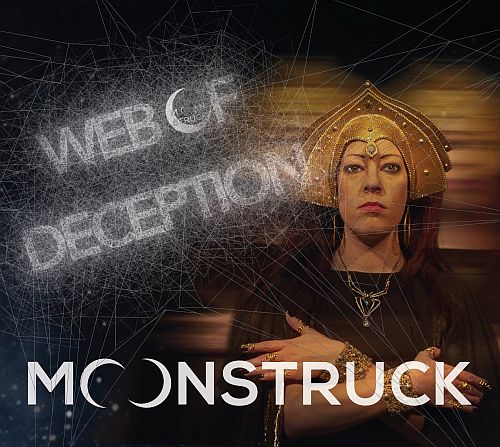 This Dutch band came into my horizon last year when I fell in love with their EP called Impact so I had high hopes for their debut album. I had the joy of being able to be at the launch night in their home town. I had a ball! The album is prog metal with nods and winks to bands such as Iron Maiden, Queensryche, Nevermore and Priest. The 11-minute "Metamorphosis" is suitably epic with some fine soloing. "The Observer Of Chaos" has one of the strongest melody lines not only on this but any album all year! I am also a fan of the way singer Arnold Kloek uses different character style voices to match moods and the lyrics. Adds some theatre to the album. Great debut and hopefully more to come from them in 2020.
OFFICIAL WEBSITE (Bandcamp) / FACEBOOK / BUY: AMAZON.com / AMAZON.co.uk
[embedyt] https://www.youtube.com/watch?v=OI1jajkIiKc[/embedyt]
#05: Wormwood – Nattarvet

 🇸🇪
These Swedes blew me away with an album that was bleak and heavy but with some beautifully haunting sections which tell the harrowing story of the famine which happened in Sweden back in 1867-1869. The whole thing captivates, educates and certainly moved me. With plenty of black metal nastiness mixed with sublime David Gilmour style guitar solos, this album takes us to the heart of the region affected. I could feel the pain and anguish along with that hope that should spring eternal even when there should be none. "The Isolationist" is still one of my favourite tracks of the year and the video that goes with it is superb. Feel free to check it out on YouTube.
OFFICIAL WEBSITE (Bandcamp) / FACEBOOK / BUY: AMAZON.ca / AMAZON.com / AMAZON.co.uk
[embedyt] https://www.youtube.com/watch?v=ciDZw2_JXrg[/embedyt]
#04: Devin Townsend – Empath

 🇨🇦
A brand new band for the crazy Canadian and an album chock full of different styles with plenty of pathos and humour. Not his most immediate work but the rewards for repeated listens are many. An album mostly about mental health which is still highly entertaining. It is kind of a look into the mind of a mad genius (which Devin is, he is without a doubt this generation's Frank Zappa, due to the amount of output as well as the variation). Despite the heavy nature of the material, there is an element of joy and love life running through it.
The album sort of covers many of the sounds that have made up his career with the odd addition, I mean disco anyone? The way he can throw a death metal vocal into a whimsical light and airy piece ("Why") or manage to fit Hawaiian melodies to a song that also has blast beats and the aforementioned disco ("Genesis") is jaw-dropping. Every time I play it I hear something new which is a great credit to his composition and possibly his not willing to sit still in one spectrum for 5 seconds. Life-affirming stuff.
OFFICIAL WEBSITE / FACEBOOK / BUY: AMAZON.ca / AMAZON.com / AMAZON.co.uk
[embedyt] https://www.youtube.com/watch?v=1n7uvokARQ4[/embedyt]
#03: Hollowstar – Self-Titled

 🇬🇧
This is, without a doubt, the best debut album I heard this year. This 4 piece from St Ives in Cambridgeshire England have a classic rock sound but for this century. They also know how to write quality songs. 10 songs all around the 4-minute mark with plenty oomph, that pack a punch and have melodies that are very memorable. With a great singer in Joe Bonson who made me think of Paul Rodgers in places. With songs like "Let You Down", "Invincible", "Overrated" and their song to a lost friend in "Good Man Gone" they have created songs to remember as well as sing along with. They have left themselves with the unenviable task of beating this debut. I for one cannot wait to see what they do next. Classic rock it seems (despite the naysayers) is alive and well. Thank fuck for that!
OFFICIAL WEBSITE / FACEBOOK / BUY: AMAZON.com / AMAZON.co.uk
[embedyt] https://www.youtube.com/watch?v=X2oqxaABy0s[/embedyt]
#02: Tool – Fear Inoculum

 🇺🇸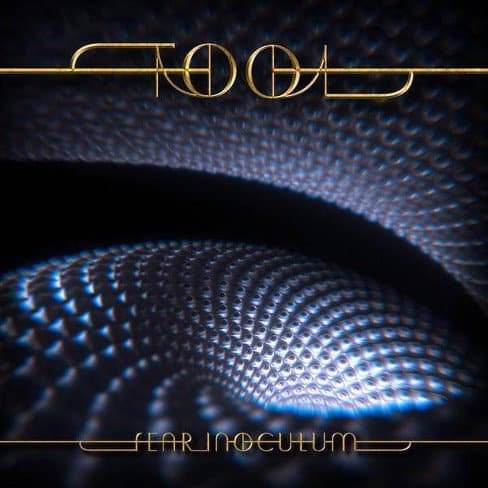 13 years to wait. 13 bloody years. Tool returned with a near 80-minute album of just 7 songs! Or nearly 90 minutes and 10 tracks long on the digital version. It also made number 1 in the album charts confusing the hell out of Taylor Swift fans, who wondered not only who this band were but struggled at the idea of songs that last over 10 minutes! How many of us laughed.
The biggest complaint I heard about it was "the tracks don't seem to go anywhere, or if they do it is too slow on getting there". Those people missed the point. As someone once sang "the point of the journey is not to arrive" (points can be won if you can guess the band and song, sadly points don't mean prizes here). I once took a train journey in Norway from Bergin to Oslo, not because I wanted to go to Oslo (no offence to Oslo) but because I wanted to enjoy the journey, the slow and beautiful changing scenery. It was stunning. So is this album. Put on headphones, lie back, relax with your eyes shut and go with the flow. God it is fantastic, almost an out of body experience. Ignore the moaners and get your lugs (ears) round this.
OFFICIAL WEBSITE / FACEBOOK / BUY: AMAZON.ca / AMAZON.com / AMAZON.co.uk
[embedyt] https://www.youtube.com/watch?v=q7DfQMPmJRI[/embedyt]
#01: 4th Labyrinth – Better 🇬🇧
This album is probably the one I have played most often this year. I simply keep on returning to it. Personally I find it uplifting due to terrific use of melody even though the lyrics can be quite dark in places. The title track makes me feel "better" every time I hear it. Perhaps it is due to my own personal health issues this year that makes me identify with it so much. Or maybe it is just because it is a fabulous album? Who knows for sure? All I know is that is mixes up musical artists such as Deep Purple, Beatles, Big Elf and Supertramp amongst others to create something fresh and exhilarating. I didn't hear anything else quite like them all year, making them particularly unique in our scene at the moment.
It is an album with plenty of variety and styles including rock, prog, pop and punk! The last track "Make It Mine" which is the longest at 7 minutes is a more intense and atmospheric track that stays with you long after it finishes. I find I can play this album 2 or 3 times in a row and still be enjoying it. Having seen them live I can also say that they totally cut it live. Very entertaining with great showmanship. This band have the musical chops along with great material to go far. Like several of the bands on this list, they are pretty new proving that the quality of the scene is there. It is definitely up to us to support the scene as best as possible. Buy the album(s) and go to the gigs.
OFFICIAL WEBSITE / FACEBOOK / BUY: AMAZON.com / AMAZON.co.uk
[embedyt] https://www.youtube.com/watch?v=yY9Wia-HJzE[/embedyt]
Honourable Mentions: BEST OF 2019 – Tom Cornell
There were a few albums that I wish to give honourable mentions too that were very close to making the 10 (and who I spent ages arguing with myself about over). These are all also great albums but just not played quite as often as the ones on the official list. They are:
Avantasia: Moonglow; Death Angel: Humanicide: Slipknot: We Are Not Your Kind: Franck Carducci: The Answer; Magic Pie: Fragments Of The 5th Element and finally Royal Republic: Club Majesty
Gigs of the year: Powerwolf/Kissin' Dynamite Glasgow SWG3; Willie And The Bandits Edinburgh Voodoo Rooms; Samantha Fish Edinburgh Voodoo Rooms; Avantasia London O2 Forum; Franck Carducci Glasgow Ivory Blacks; Devin Townsend Glasgow SWG3
Also, find more of my CGCM reviews here: Tom Cornell
Tom Cornell
Email Me at: Tom Cornell