Originally on Casablanca Records, Angel was known as the anti-KISS band. While the KISS guys were all in black and silver, Angel was completely opposite, dressing all in white.
Forming in Washington D.C. in the mid-'70s by Punky Meadows and Mickie Jones the band quickly became known for their flamboyant glam look and stage presence. Discovered by the KISS demon himself, Gene Simmons saw Angel performing at a nightclub and even got them attention from Casablanca Records. Angel never gained much mass commercial success and got quite a bit of slamming from rock critics over their androgynous image.
Some Angelic History
In 1975 the band released their first self-titled album. The band then consisted of guitarist Punky Meadows, bassist Mickie Jones, vocalist Frank DiMino, keyboardist Gregg Giuffria, and drummer Barry Brandt. In 1981 DiMino and Meadows departed from Angel. They were replaced by Fergie Frederiksen (later of ToTo) and Ricky Phillips (The Babys, Bad English, STYX) but this lineup quickly dissolved as well.
By the late '90s, Angel reformed once again. This time DiMino and Brandt were back and this time joined by Randy Gregg on bass, Steve Blaze on guitars and Gordon G.G. Gebert on keyboards. Once again, this line-up didn't last long. Another KISS connection is that Gordon G.G. Gebert later went on to work with Ace Frehley in his solo endeavours. As any KISS fan knows, that didn't end very well.
Continuing to Rise
By 2018 the band reformed yet once again. This time using the moniker, Angel feat. Frank DiMino and Punky Meadows. They promoted themselves with a new single "Under the Gun". Also with the promise of a new Angel album in 2019.
That brings us to Risen. Released on Cleopatra Records, this would be Angel's first album of new music since 1999's In the Beginning. The first featuring original guitarist Punky Meadows on all tracks since Live Without a Net released in 1980. Risen features 15 new tracks, along with a remake of the Angel classic "Tower". This album will be sure to please all of Angel's fanbase. Its got hooks and grooves all over the place. Not to mention the band simply plays their asses off. Giving the fans what they hope and can expect from Angel.
Risen
Kicking off with the "Angel Theme", all I can say here is that I was waiting to hear Ozzy starting "Mr. Crowley".
I personally have never seen Angel live. So actually I am unaware of their "thematic opening". If this was something or is something they use at the start of their shows. I am aware however that they did have a big "magical" type of opening. Maybe someone could let me know if this is or was the actual way that they opened their shows.
This leads into the single from the album "Under the Gun". The song is solid. It has the sound that Angel became known for. The true highlight here is Punky's solo. Even after 40+ years, the man still has the chops that any aspiring guitarist should strive for. Seeing that this album has 17 tracks, I think sticking to the album highlights instead of each song might be best.
Another that immediately comes to mind is "Slow Down". A track with a good sound, basic riff, and some just good classic sounding Angel exist here. A driving drumbeat, and some good ol' gang vocals. What more could any fan of this band want or ask for?
Still Rising
The tune "1975", has that great classic Angel sound. With an opening of keyboards, that I am positive would sound great through an arena sound system and light or laser show that only a rock band could provide. It has a nostalgic feel to it. I would love to ask Frank or Punky if this was them truly sitting down and looking back. It's a slower-paced tune, but if you like good lyrics and listen to the words, it can literally transport you back to a time of more than flannel, and pajamas on stage.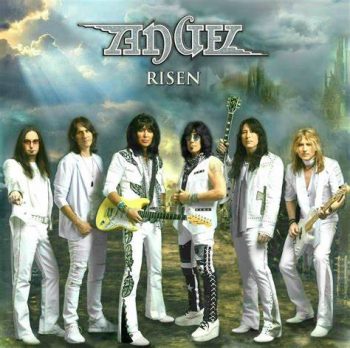 Another track, with that "Classic" Angel sound, is "Desire". The song has Frank front and centre, singing a well-written track, with Punky playing right along and keeping the train moving. The song does have an older feel or vibe to it but still has you rocking. The guitar solo is great and has a 70's feel that is unmistakable.
"My Sanctuary" opens with another driving beat and some great keyboard sounds. The guitars on this track sit slightly in the back behind the drums but step ahead when called for. It's almost a trade-off throughout the song. Again, I don't know how to say it, but the solo here is amazing. Not over the top, but a prime example of playing exactly what the song needs, and nothing more.
Ending the disk is the 2019 re-recording of the Angel classic, "Tower". I can honestly say that there is a reason this track has become a fan favourite and giving it the upgrade doesn't hurt the track at all. I've heard some bands take a classic song, and just simply ruin it in the attempt to "update" the sound and bring it to some newer fans, that maybe haven't heard it before. Not in this case.
Psycho Thoughts
So, it is possible that Angel might not be in everyone's wheelhouse of Rock bands, but you cannot deny their place. If you consider the declining abilities of many of their musical comrades it is hard to come up with another guitar and vocal duo, from their era that can even still perform at this level. Just because they never reached the heights of their Casablanca cohorts KISS, that doesn't mean they don't have a place in Rock history. Angel might not the band you slam your head too on the stage, but you must appreciate the musical ability and desire to continue after as many years they have been around. So, if you're in the mood for something that is fun to listen to and don't quite feel like some rough and tumble hard rock, I'd personally suggest that maybe you give it a spin. It's always nice to discover a band with a back catalogue that you can dive into. So, listen to the Angel on your shoulder and give in to the one that is saying, "Go Ahead" and just enjoy!
Peace!
BUY: AMAZON.ca / AMAZON.com
Furthermore, check out all my reviews: Trevor's Archives
Trevor "Psychoone" McDougall
Email Me at: Trevor "Psychoone" McD
Band:
Frank DiMino – Vocals
Punky Meadows – Guitars
Danny Farrow – Guitars
Steve Ojane – Bass
Billy Orrico – Drums
Charlie Calv – Keyboards
Tracks:
Angel Theme (Prelude)
Under the Gun
Shot of Your Love
Slow Down
Over My Head
1975
We Were the Wild
I.O.U.
(Punky's Couch Blues) Locked, Cocked and Ready to Rock
Turn Around
Desire
Our Revolution
Tell Me Why
Don't Want You to Go
Stand Up
My Sanctuary
Tower (Re-Recorded)
[embedyt] https://www.youtube.com/watch?v=-BSi2ETkgAc[/embedyt]
[embedyt] https://www.youtube.com/watch?v=EJ-fF5htKPU[/embedyt]