Saturday, day #2 at All-Star Festival in Antwerp, Belgium.
13:15 was an earlier kick-off today with Steelover. This band was a last-minute addition as well that excited me greatly. My podcast co-host and I had recently recorded an episode on Belgium and feature many Belgian bands that we had discovered. This is one! With an album way back in '84 and a brand new one in 2022 basically being their catalogue, I never expected a chance to see them live! Holy shit did they deliver! A heavier flavour, right up my alley, made for a stellar start to the day!
Chez Kane is another buzz-filled artist in the game right now. With her second album recently gracing shelves, folks are loving the throwback 80s sound she's delivering. For me, however, I find it a bit light and poppy for my tastes and much prefer her previous musical endeavour, Kane'd. That said, I find Chez to be rather catchy at the same time. Live brought a heavier tinge to the music that went over better for me. And certainly, her energy level was high and she and the band delivered! **NB, her new bassist is just 17 years old (and the brother of her guitarist) who just learned the entire Chez set in 6 days to join the band.
Sometimes It's Personal
Age Of Reflection was next up and only joined All-Star a week or two ahead of the event. I may have a bias here as I love this band. Music and people and I'm proud to call them friends. Another wicked performance, this time saw me front row hugging the rail for the entire time. I sang along in all my tone-deaf glory, happy and proud to see them on stage. I might even have choked up in tears. It happens when I'm so happy and proud like that. The boys delivered another fantastic show and I was surprised to later learn that guitarist Carl Berglund who I was in front of the entire show, was terribly ill. At one point he ducked behind the stack, I thought he was just tuning his guitar. Turns out he was actually voiding his stomach into a bucket!
How The Day Went
Hartmann was taken up by a visit to the food truck and holding court with friends new and old. I quite like what I've heard from Hartmann and never having seen him perform I had planned on catching the set…..until I got waylaid….lol
Roulette was another amazing band I'd never seen. And I was not disappointed at all. Having and enjoying the album Now! from back in 2019, I didn't know much else about Roulette. But they issued a fine setlist filled with catchy, foot-tapping melodic rock. Also, such great people when I met some of them yesterday.
Valentine also became a casualty for me with beers and friends. Not familiar at all with Valentine's music, I wasn't too upset. Not an offence at all to the band and artists but for me a good portion of events like this is the people, friends old and new, so I always have a couple of band casualties.
Bringing It Home Once Again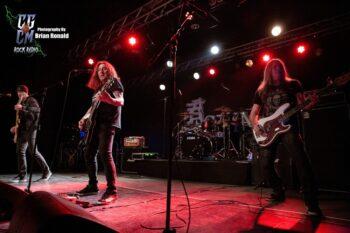 Wow! Did I ever just learn that I need to listen to more China! I have one album and seem to recall it being quite good even though I couldn't name a song right now. Featuring two Gotthard members, the band was on fire. Not being familiar with the music made not one iota of difference to me and frankly, I was blown away! Definitely going shopping for this entire catalogue when I get back home
FM was tonight's headliner and what a band, what a voice. As many who know me are well aware, I'm not a super lover of the more melodic bands most times but some hammer through in a big way. And FM on the heels of Overland's vocals definitely hit the mark. I recently met a friend of a friend who discussed how the cover of FM's Tough It Out record had creeped him out. The depiction of a little boy holding the FM logo-shaped oversized medallion that to me looks more like a sewer cover prevented him from listening to the album until just recent years! He seriously kicks himself now as that's one of the best albums of our generation and he deprived himself for so long…….and I laughed and laughed! Unfortunately, with no photo pit, the dense crowd rendered photo capturing extremely difficult.
Full Band Photo Galleries and More
Follow this link for more All-Star Festival coverage coming soon to CGCM Rock Radio!